10-20-2017: Is There Such a Thing as "Too Big to Fail" in the American Apparel/Textile Industry?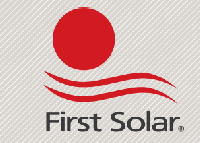 Is American industry too big to fail? Not if you live and work in the so-called "Triad" area of North Carolina where textiles, furniture, and tobacco were the three main industries all taking a whopping hit.
What do Ralph Lauren Corporation (RL) and Eastman Kodak have in common? Both are/were very large companies run by what we call "old management" entrenched in a particular mind-set, unable to adapt to changing conditions. The idea of "too big to fail" seems to elude such companies. RL is in a challenged industry group fighting off foreign compensation in textile and apparel manufacture coming form overseas, just as Kodak had to fight off the digital revolution and foreign competition eating into its "iconic" chemcial film business. The company has a "Way Back" program aimed at focusing on its core iconic brands to the exclusion of a multiplicity on non-contributing "other product" ventures, but that may only be falling into the trap of "what worked before" that may not work now.
Our recent article on Ralph Lauren Corporation (RL) is in the Archives Section Below.


Zenith's Active List of 39 Stocks as of 10/21/2017
(Updated once a week, usually on Saturday except when less than 5 trading days in the week.)
Note: Zenith tries to pick only stocks which are shortable, but sometimes stocks appear afterward on the SEC Regulation SHO list of stocks which are not shortable, which is beyond our control. On some stocks, Zenith may hold more than the number of shares it trades in its inventory. Thus the "short" sale of such a security would technically not be a "short" sale for us and not subject to SEC rules regarding selling securities which are not deliverable. Also, stocks pop on and off the list available for shorting on successive days, so the presence of a stock on the current SHO list doesn't mean it was there at the time it was shorted.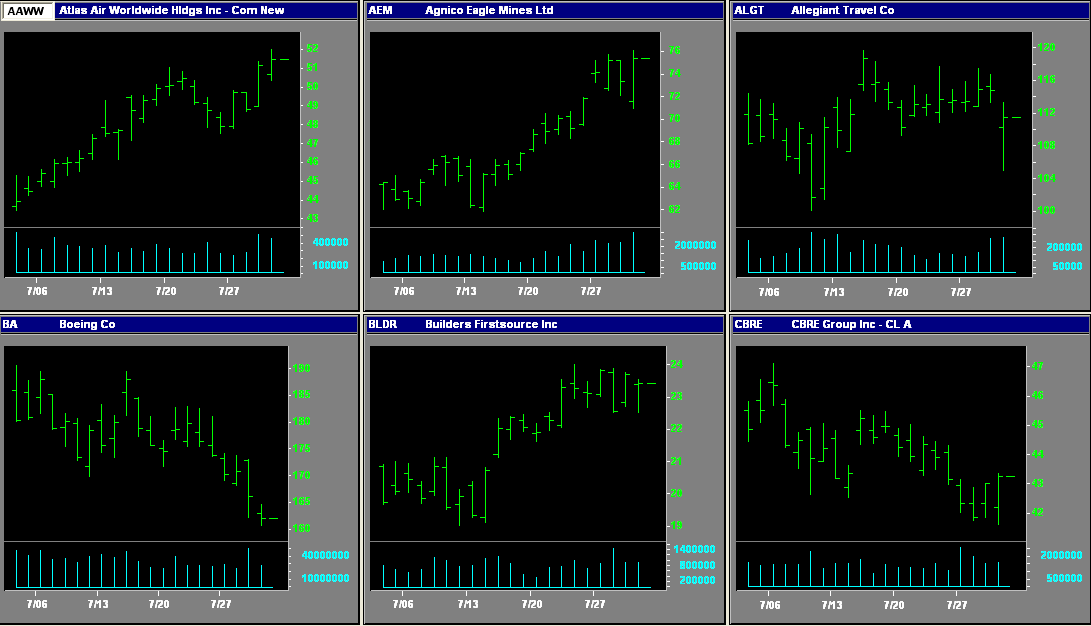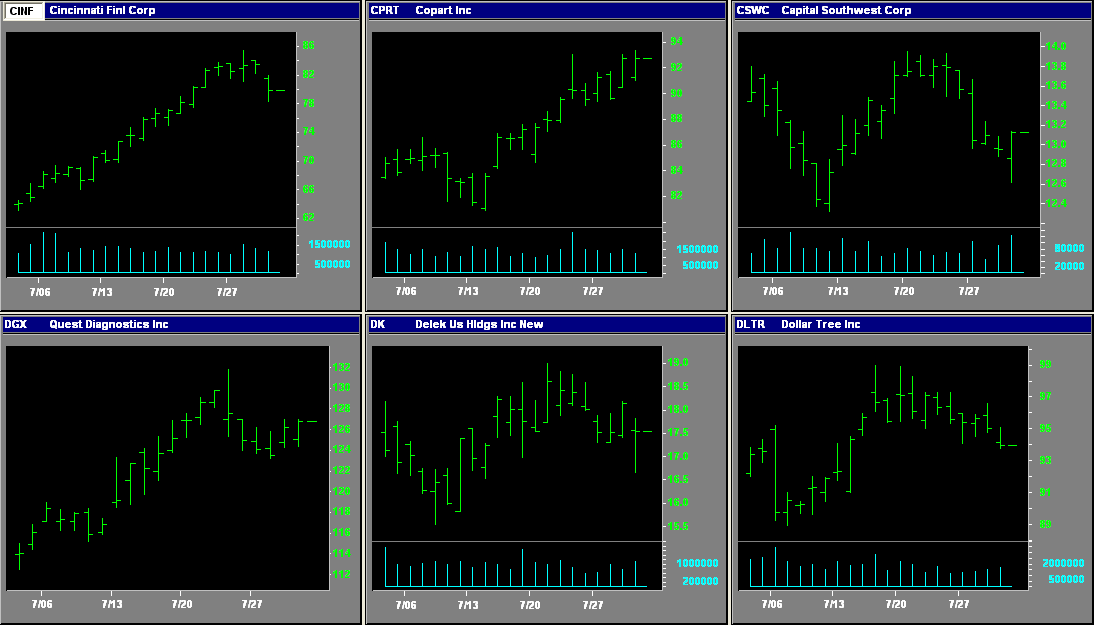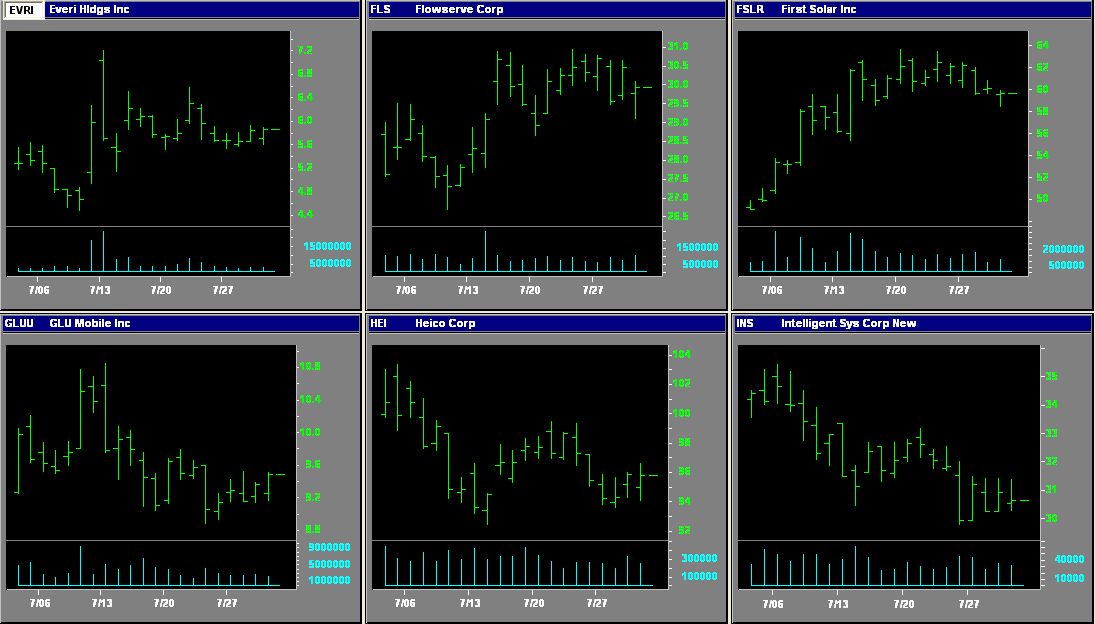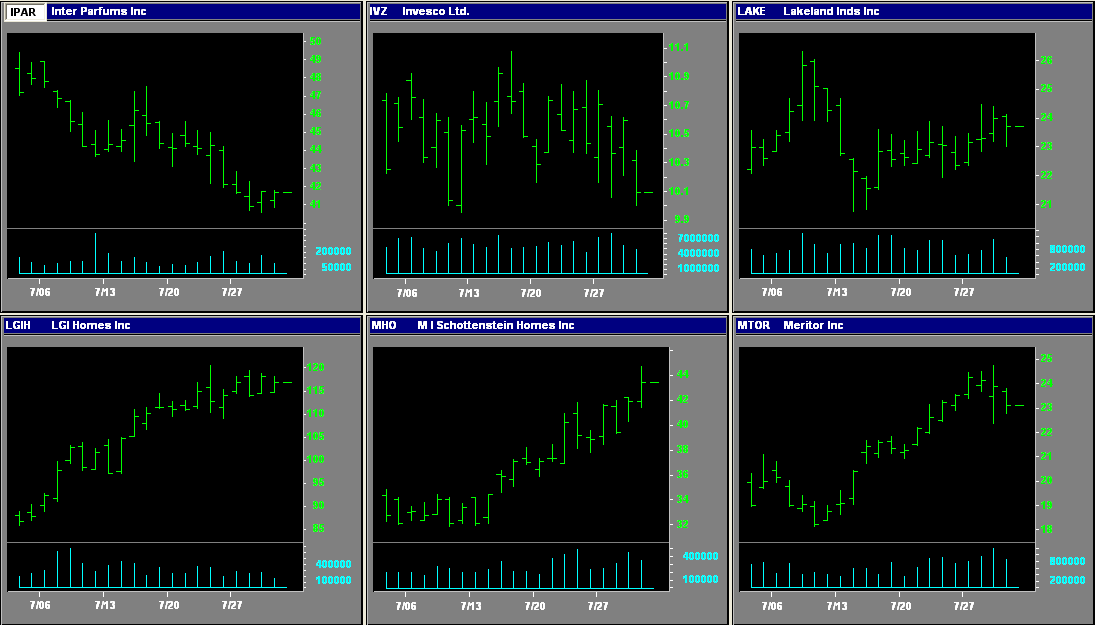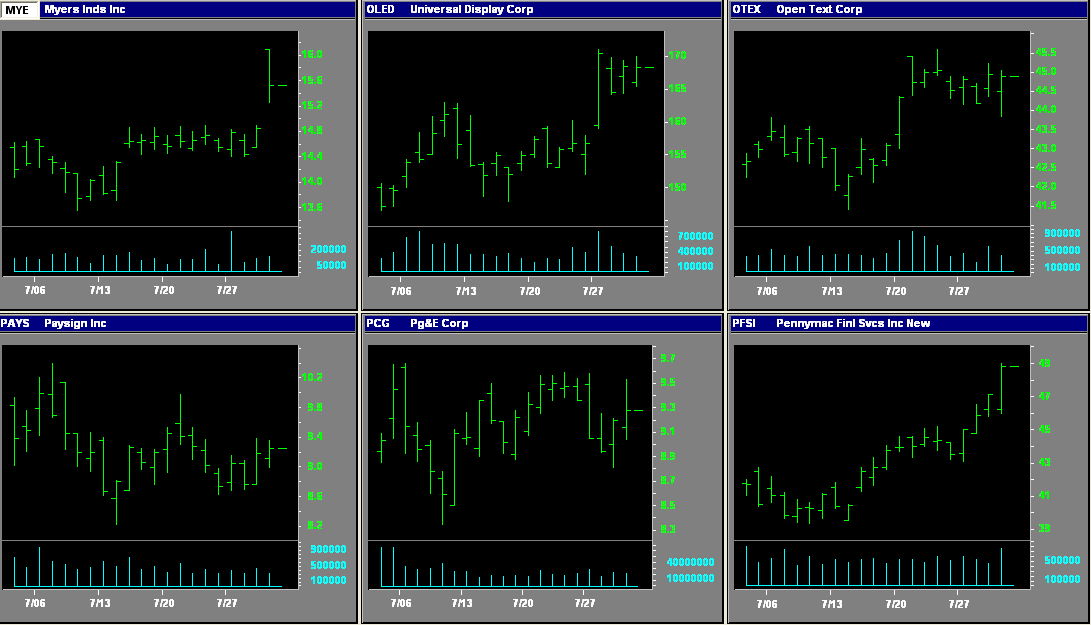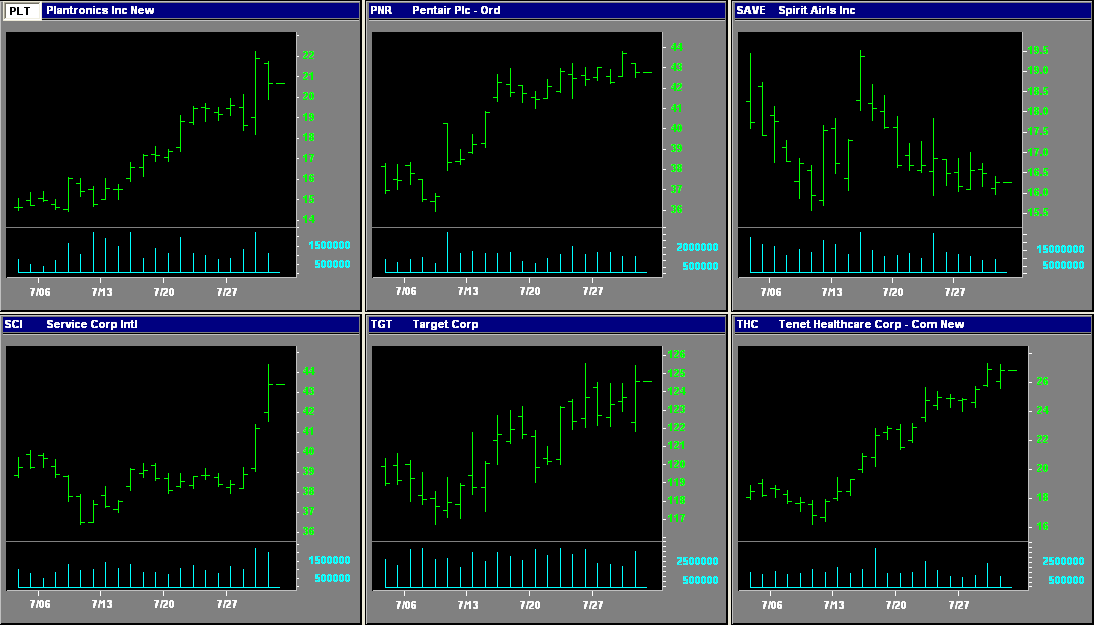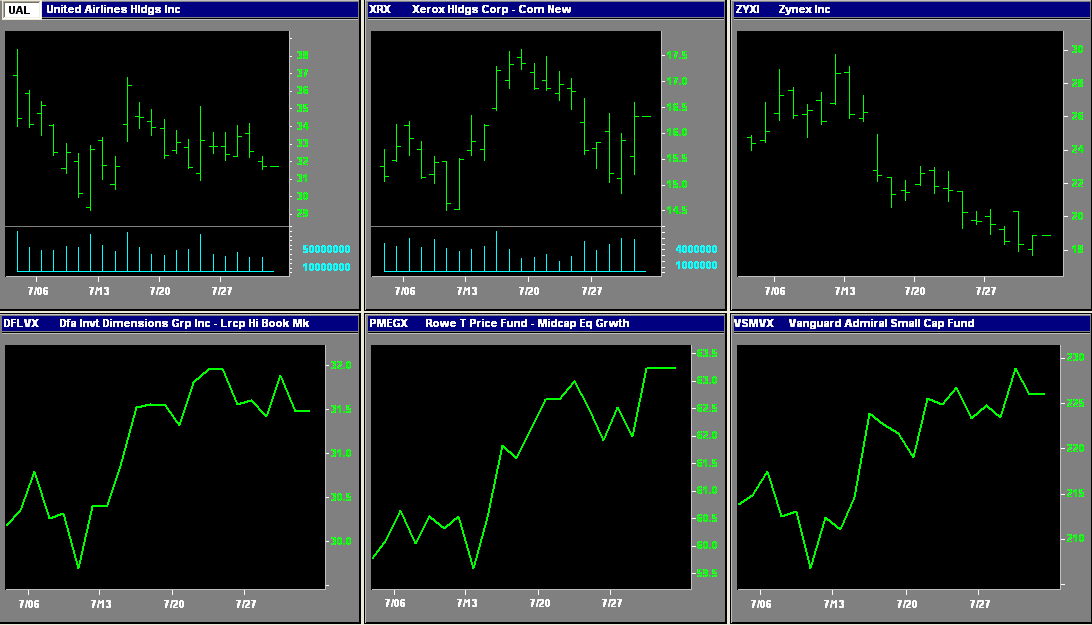 What are the last three entries in the Active Stocks chart list? These represent typical high-, mid-, and low-cap mutual funds to help us gage the tenor of the stock market as a whole.

Archive List
10-20-2017: Ralph Lauren Corporation (RL): Iconic Brands Too Big To Fail?
10-15-2017: Brooks Automation, Inc. (BRKS): Semiconductor Fabrication, Packaging & Cryogenics
10-10-2017: Sanderson Farms, Inc. (SAFM): Best Value Third-Largest Chicken Producer
10-04-2017: Triple-S Management Corp. (GTS): Puerto Rican Insurance
10-02-1017 : Zenith's Monthly Traffic Log for September, 2017
09-26-2017: Fabrinet (FN): Tradable, Channeling
09-23-2017: San Juan Basin Royalty Trust (SJT): Payout Exceeds Revenue
09-20-2017: Centene Corporation (CNC): Growth Through Acquisitions
09-15-2017: Ingredion Corporation (INGR): Average Food Group Performance
09-11-2017: Ituran Location & Control Ltd. (ITRN): Vehicle Tracking
09-07-2017: Quad/Graphics, Inc. (QUAD): State of Art Commercial Printing
08-31-2017: Rogers Communications Inc. (RCI): Competitive Canadian Wireless
08-28-2017: Old Dominion Freight Line (ODFL): Internet Commerce Benefits
08-21-2017: CPI Aerospace Structures, Inc. (CVU): American Aerostructure Craftsmanship
08-17-2017: Hilltop Holdings, Inc. (HTH): Regional Bank with Nationwide Presence
08-12-2017: Aaron's Inc. (AAN): Lease or Buy
08-07-2017: Renewable Energy Group Inc. (REGI): Awaiting Government Enlightenment
08-02-2017: Align Technology Inc. (ALGN): Aligning Teeth
07-27-2017: Washington Federal Inc. (WAFD): Rising Interest Rates Help Profits
07-23-2017: Aercap Holdings, NV (AER): World's Largest Aircraft Lessor
07-17-2017: Argan, Inc. (AGX): Successsful ECP Powerplant Contractor
07-12-2017: Sherwin Williams Co. (SHW): Acquring Most of Competition
06-26-2017: Rudolph Technologies Inc. (RTEC):A Tech Stock with Stronger Valuation than Most
06-21-2017: D.R. Horton Inc. (DHI): America's Largest Homebuilder
06-17-2017: Marriott Vacations Worldwide Corp. (VAC): Enhanced Timeshare
06-10-2017: Eagle Materials, Inc. (EXP): Awaiting Infrastructure Bill
06-04-2017: Ascena Retail Group, Inc. (ASNA): Competition from Amazon Blamed
06-04-2017: Boot Barn Holdings, Inc. (BOOT): Nation's Largest Western Wear Retailer
05-31-2017: MaxLinear, Inc. (MXL): Serving Cable and Satellite Circuit Needs
04-24-2017: Par Technology Corporation (PAR): Food & Beverage Industry Niche
04-18-2017: Best Buy Co., Inc. (BBY): Electronic Specialty Retailer
04-12-2017: Mondelez International, Inc. (MDLZ): $35 Billion Spinoff from Kraft
04--06-2017: Darden Restraurants Inc. (DRI): Benefits from Loosened Regulations
03-31-2017: Pepsico, Inc. (PEP): Strong International Presence
03-24-2017: KB Financial Group, Inc. (KB): Large Korean Bank
03-18-2017: Barnes Group, Inc. (B): Stable Aerospace Company
03-12-2017: Ultra Clean Holdings, Inc. (UCTT): Wafer Fab Mania
03-06-2017: II-VI, Incorporated (IIVI): Bright Future in Laser Materials
02-24-2017: Nova Measuring Instruments, Inc. (NVMI): Measuring Increasingly-Complex and Smaller Wafers
02-20-2017: Lam Research Corporation (LRCX): Etching and Wafer Equipment Niche

Stock Performance
Trading in stocks involves risk, and past performance is no guarantee of future profits. Zenith does not sell advice nor does it manage discretionary accounts other than its own. Readers should be aware of the vested interest that all traders / brokers have in encouraging other traders to make the same transactions. No one should follow investment advice blindly. This web site should be used only as a "sounding board" forconfirming one's own opinion. Any suggested order placements should be reviewed and reset to fit current market conditions by individual traders.

Recommendations may include trades which have already been made on the same or a previous day,otherwise the issue is placed on a "watch list." Suggested stock trades are based upon an approximate maximum $30,000 capitalization requirement per trade. Zenith's actual trades may be larger.
Click here to E-Mail Zenith!