04-23-2019: Venerable Church & Dwight Sets a Reporting Standard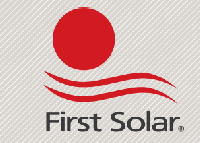 Companies which have been around for a long time on the NYSE are more apt to set reporting, accounting and shareholder concern standards than other newer companies. Church & Dwight Co., Inc. (CHD) is certainly one of these better standard-setting types. We liked just about everything about its reporting style, website, and management discussions. However, the stock, a definite "buy and hold" stock, has not been overlooked and recently run up considerably in price. Charts are looking like it is heading for a correction in share price after rumors about possible acquisition were denied by management as having any basis. CHD is more likely to be the one doing the acquiring, and has indeed been on that trail of late, expanding earnings faster than revenues.
Our recent article on Church & Dwight Co., Inc. (CHD) is in the Archives Section Below.


Zenith's Active List of 39 Stocks as of 04/13/2019
(Updated once a week, usually on Saturday except when less than 5 trading days in the week.)
Note: Zenith tries to pick only stocks which are shortable, but sometimes stocks appear afterward on the SEC Regulation SHO list of stocks which are not shortable, which is beyond our control. On some stocks, Zenith may hold more than the number of shares it trades in its inventory. Thus the "short" sale of such a security would technically not be a "short" sale for us and not subject to SEC rules regarding selling securities which are not deliverable. Also, stocks pop on and off the list available for shorting on successive days, so the presence of a stock on the current SHO list doesn't mean it was there at the time it was shorted.
Stocks recently restricted by SEC Rule 201 as not shortable unless we already have a position which are on our Active List include: CALX (4/11), VCEL(12/21). .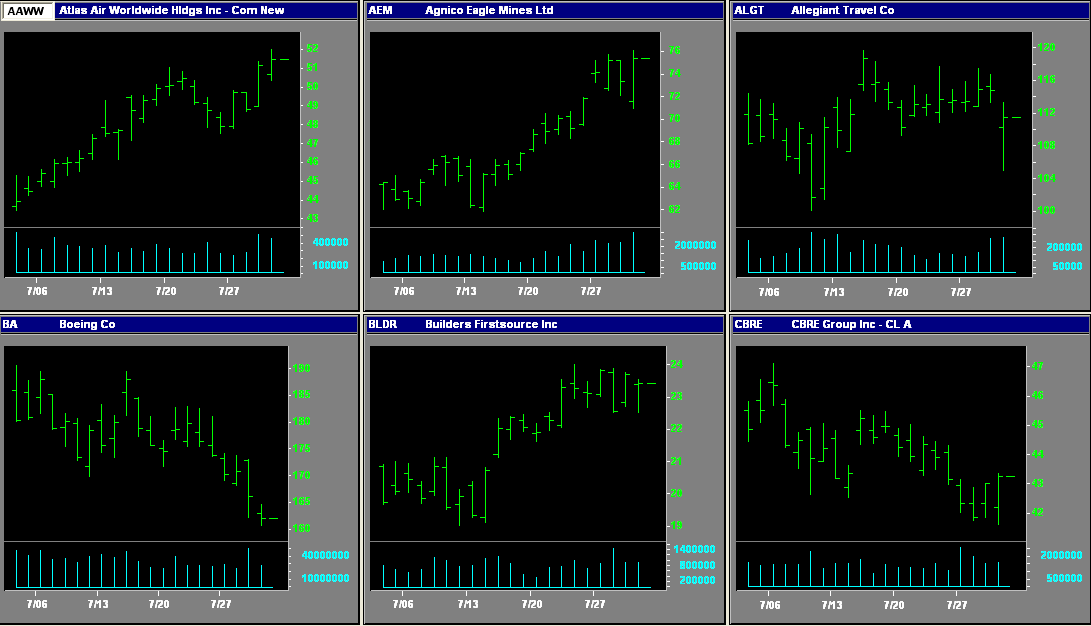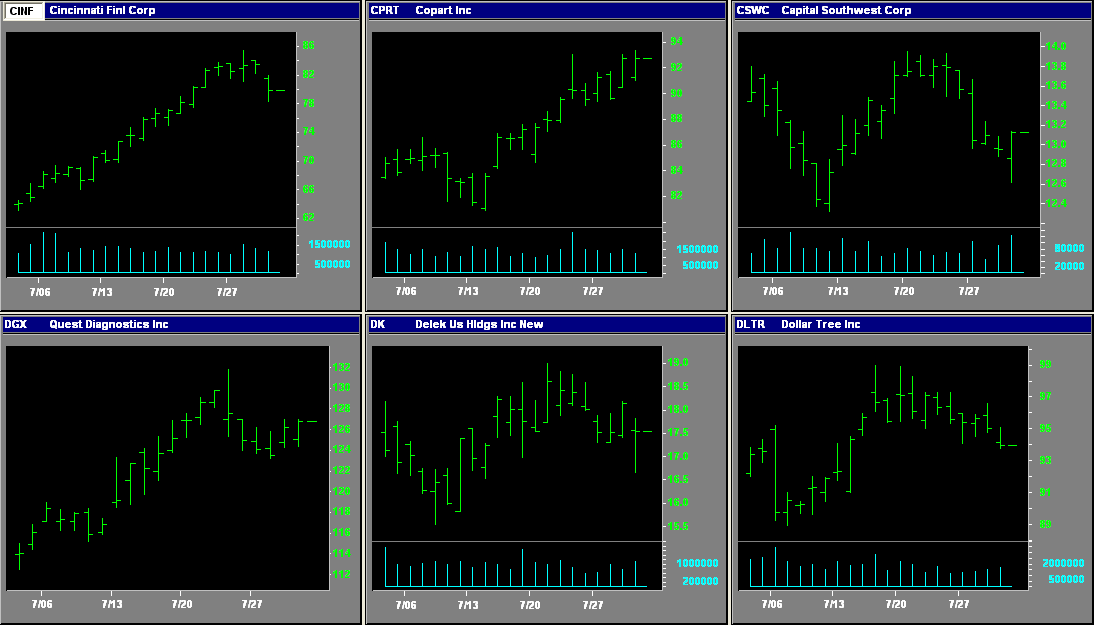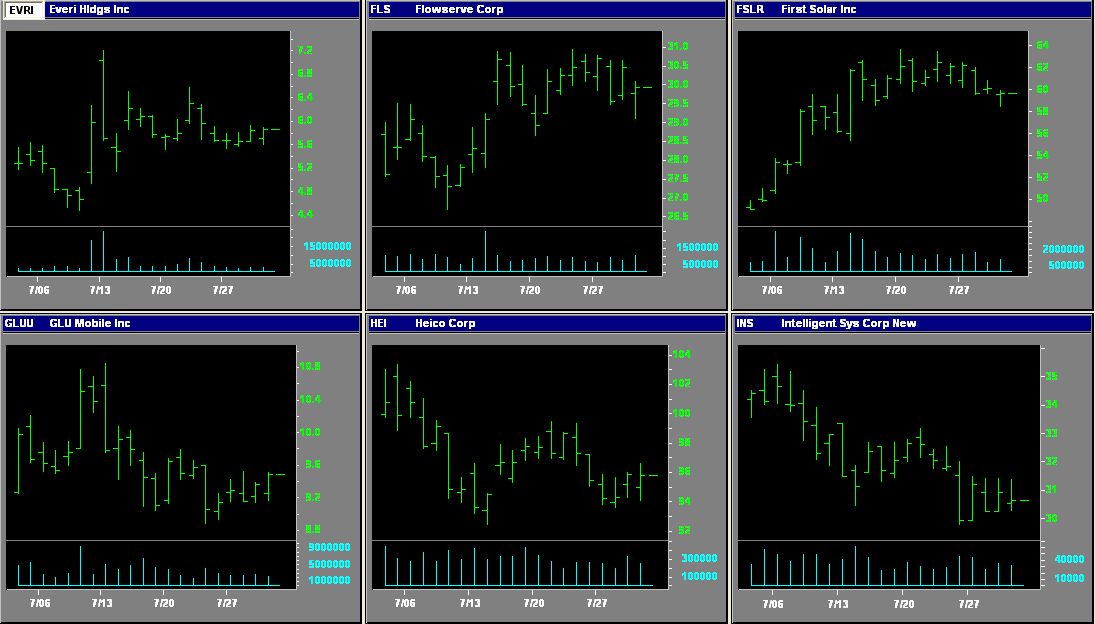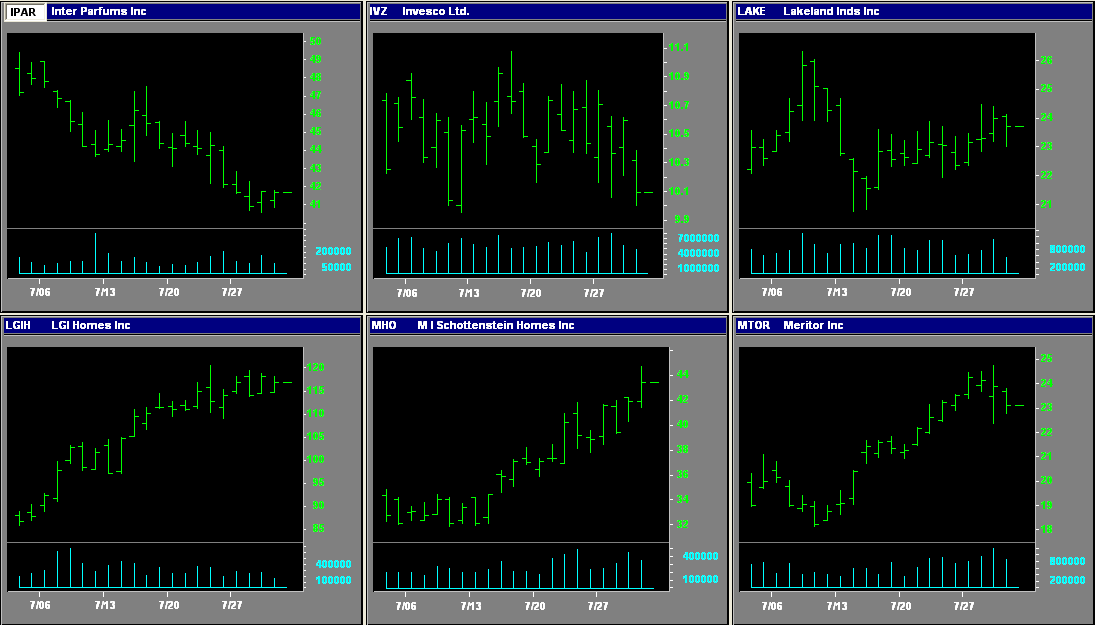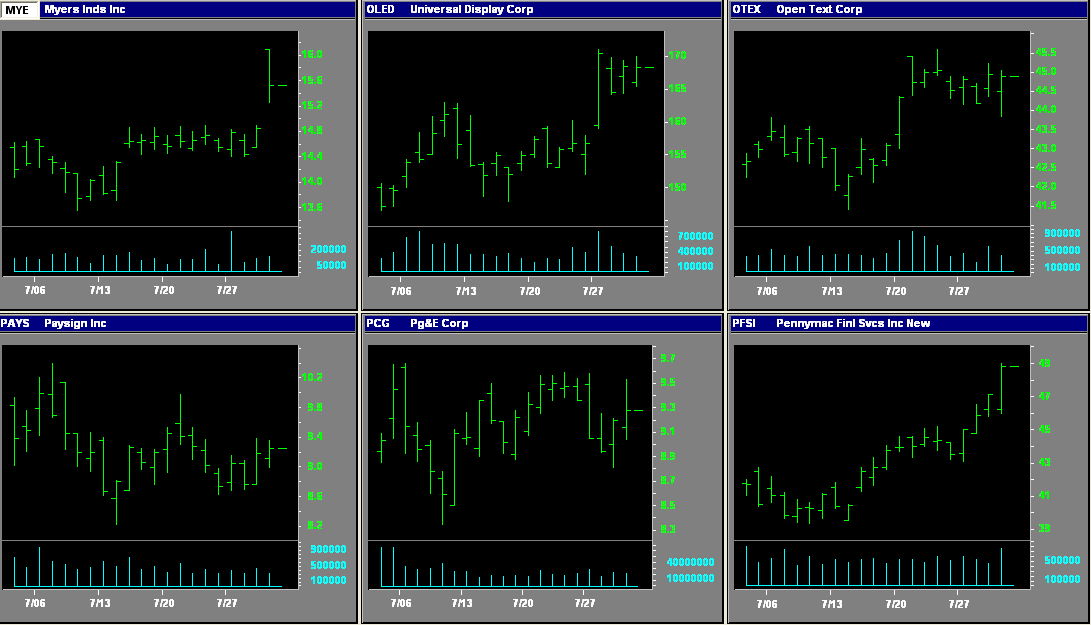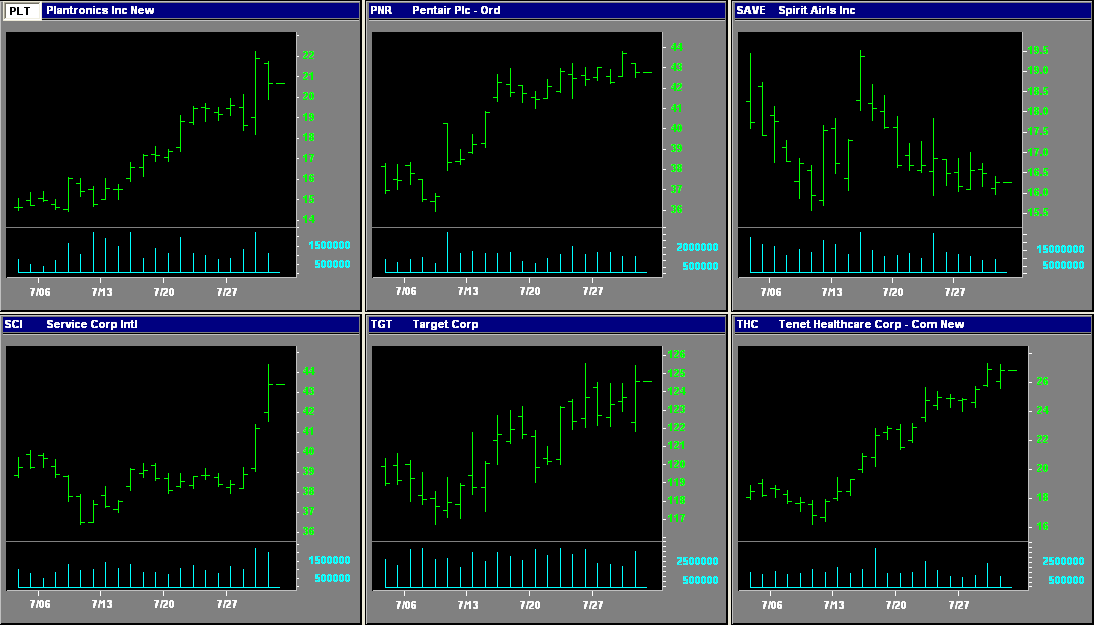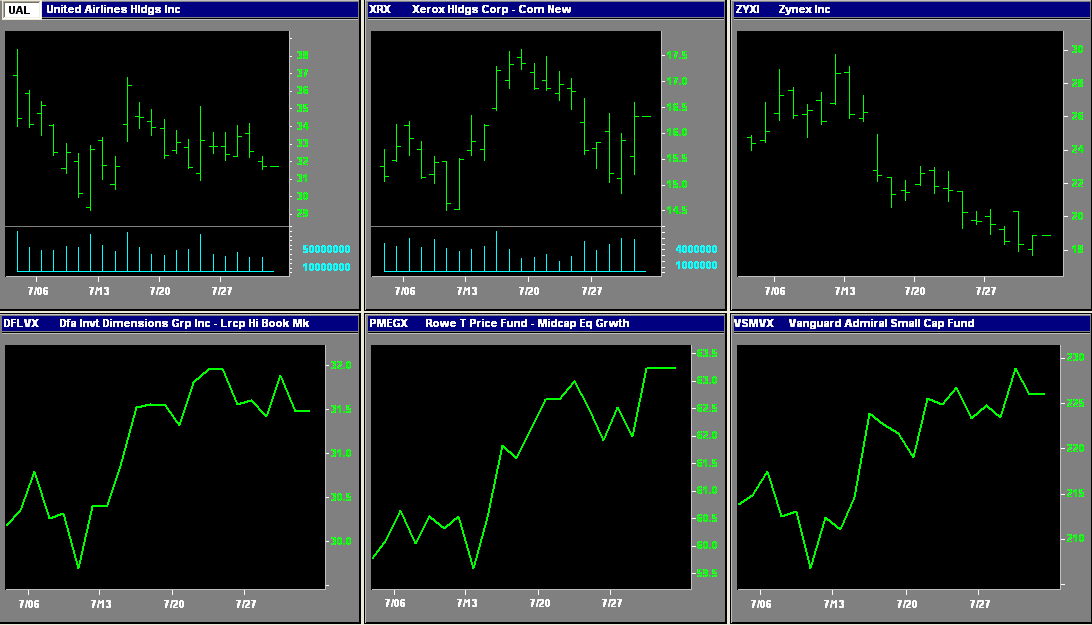 What are the last three entries in the Active Stocks chart list? These represent typical high-, mid-, and low-cap mutual funds to help us gage the tenor of the stock market as a whole.

Archive List
04-23-2019: Church & Dwight Co., Inc. (CHD): Sets Reporting Standard
04-18-2019: CyberArk Software, Ltd. (CYBR): Cyber Security Relies Upon Foreign-Based Technology
04-11-2019: Calix, Inc. (CALX): Risky, Riding on the Edge
04-04-2019: RH (RH): Troublesomely Funky
03-28-2019: Carter's Inc. (CRI): Infants' and Babies' Wear Manufacturer
03-22-2019: Domino's Pizza Inc. (DPZ): Large Negative Shareholder Asset Value
03-15-2019: Wesco International Inc. (WCC): Venerable Electric Parts Supplier
03-10-2019: Exela Technologies Corporation (XELA): Who Are Those "Analysts"?
03-01-2019: Eaton Corporation (ETN): Electric Power Products Mfr Based in Ireland
02-22-2019: Abercrombie & Fitch Co. (ANF): Teen and Kid Fashions
02-17-2019: Whiting Petroleum Corporation (WLL): Crude Oil Price Recovery
02-11-2019: HMS Holdings, Inc. (HMSY): Healthcare Management Software
02-04-2019: Kemet Corporation (KET): A Leader in Capacitor Development
01-30-2019: Etsy, Inc. (ETSY): Of Benefit To Whom?
01-23-2019: Ameresco Corporation (AMRC): Energy Saving Infrastructure Improvement
01-18-2019: Verso Corporation (VRS): Struggling Paper & Pulp Industry
01-12-2019: Canadian Pacific Railway Ltd. (CP): Iconic and Facing Increased Traffic
01-05-2019: Great Lakes Dredge &I Dock Corporation (GLDD): Dredging Infrastructure Work
12-21-2018: Vericel Corporation (VCEL): Leg Cartilage Injury Medications
12-11-2018: Veeva Systems, Inc. (VEEV): Internet Software or Healthcare Industry Stock?
12-08-2018: Community Bankers Trust (ESXB): Some Information Missing
12-01-2018: Intricon Corporation (IIN): Less Expensive Hearing Devices

11-27-2018: Gentex Corporation (GNTX): Mirrors, Cameras, Remote Control

11-14-2018: Evertec, Inc. (EVTC): Puerto Rican Financial Industry Stock

11-10-2018: Zenith's Monthly Traffic Report for October

11-05-2018: Infosys, Ltd. (INFY): A Large India Information Technology Company

10-31-2018: Comtech Telecommunications, Inc. (CMTL): Commercial and Government

10-27-2018: Masonite International, Inc. (DOOR): Don't Close the Door On It

10-21-2018: Cree, Inc. (CREE): Staving Off Foreign Competition in Lighting and Inverter Products

10-13-2018: Twitter, Inc. (TWTR): Removal of Extremist Accounts Hurts Bottom Line

10-09-2018: Vicor Corporation (VICR): Tech Stock Short Sale Candidate

10-03-2018: Innoviva, Inc. (INVA): Relief for Emphysema Sufferers

09-28-2018: Pyxus International, Inc. (PYX): Hard To Tell What's There

09-23-2018: American Outdoor Brands Corporation (ABOC): Under Pressure from Activists

09-18-2018: eGain Corporation (EGAN): Consistent Losses

09-13-2018: Scientific Games Corporation (SGMS): Competition Thwarts

09-10-2018: Simpson Manufacturing Co., Inc. (SSD): Correlating Housing Starts

09-05-2018: Paycom Software, Inc. (PAYC): Surging on Strong Employment

08-27-2018: Costco Wholesale Corporation (COST): Competing with Wal-Mart

08-22-2018: National Health Trends Corporation (NHTC): 87% of Sales from Hong Kong

08-15-2018: Educational Development Corporation (EDUC): Publisher of Children's Books

Stock Performance
Trading in stocks involves risk, and past performance is no guarantee of future profits. Zenith doesnot sell advice nor does it manage discretionary accounts other than its own. Readers should be aware of the vested interest that all traders / brokers have in encouraging other traders to make the same transactions. No one should follow investment advice blindly. This web site should be used only as a "sounding board" forconfirming one's own opinion. Any suggested order placements should be reviewed and reset to fit current market conditions by individual traders.

Recommendations may include trades which have already been made on the same or a previous day,otherwise the issue is placed on a "watch list." Suggested stock trades are based upon an approximate maximum $30,000 capitalization requirement per trade. Zenith's actual trades may be larger.
Click here to E-Mail Zenith!