12=08-2016: Finding Value Stocks in a Runaway Market Is Not Easy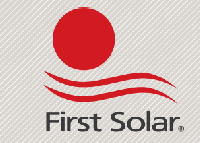 When the market keeps soaring up and up way beyond normal valuations, it becomes harder and harder to find "value stocks" (stocks with good financial ratios and fundamentals) in an overbought and over-valued market. The optimism over Trump's abandonment of regulations and corporate taxes has led to what we think might be an impending crash when certain things fail to materialize. Buried in the "runaway market" are stocks with sound fundamentals that suffer from near-term issues causing earnings disappointments. They are hard to find. One of these is Vera Bradley, Inc. (VRA), a maker of iconic brand handbags. This is a growth stock stuck in a range from which long-term it is likely to break out.
Our recent article on Vera Bradley, Inc. (VRA) is in the Archives Section near the bottom of this page.


Zenith's Active List of 39 Stocks as of 12/03/2016
(Updated once a week, usually on Saturday except when less than 5 trading days in the week.)
Note: Zenith tries to pick only stocks which are shortable, but sometimes stocks appear afterward on the SEC Regulation SHO list of stocks which are not shortable, which is beyond our control. On some stocks, Zenith may hold more than the number of shares it trades in its inventory. Thus the "short" sale of such a security would technically not be a "short" sale for us and not subject to SEC rules regarding selling securities which are not deliverable. Also, stocks pop on and off the list available for shorting on successive days, so the presence of a stock on the current SHO list doesn't mean it was there at the time it was shorted.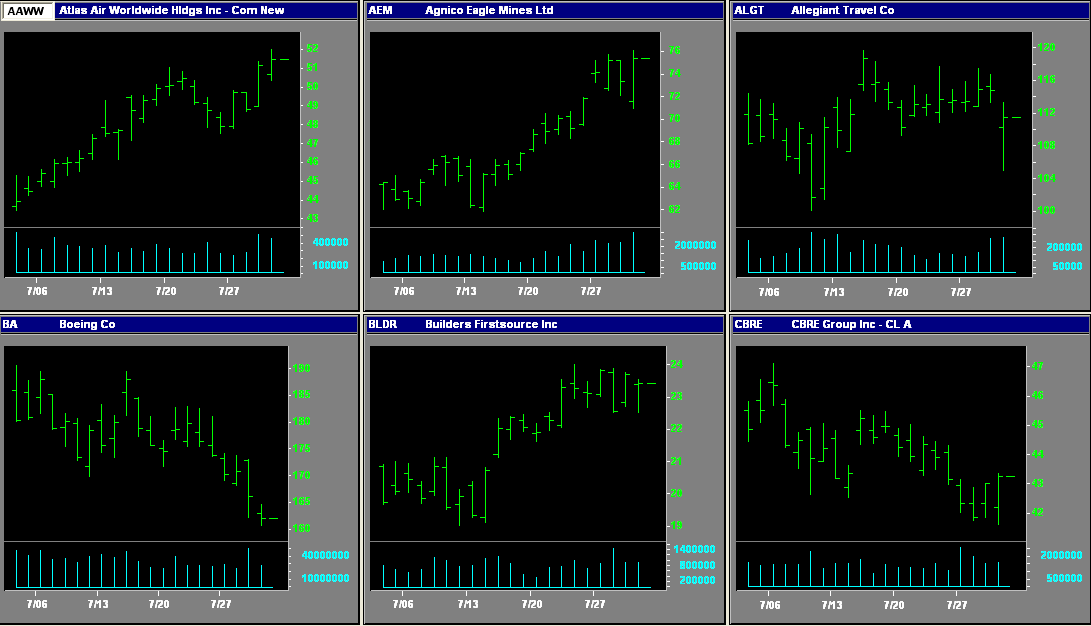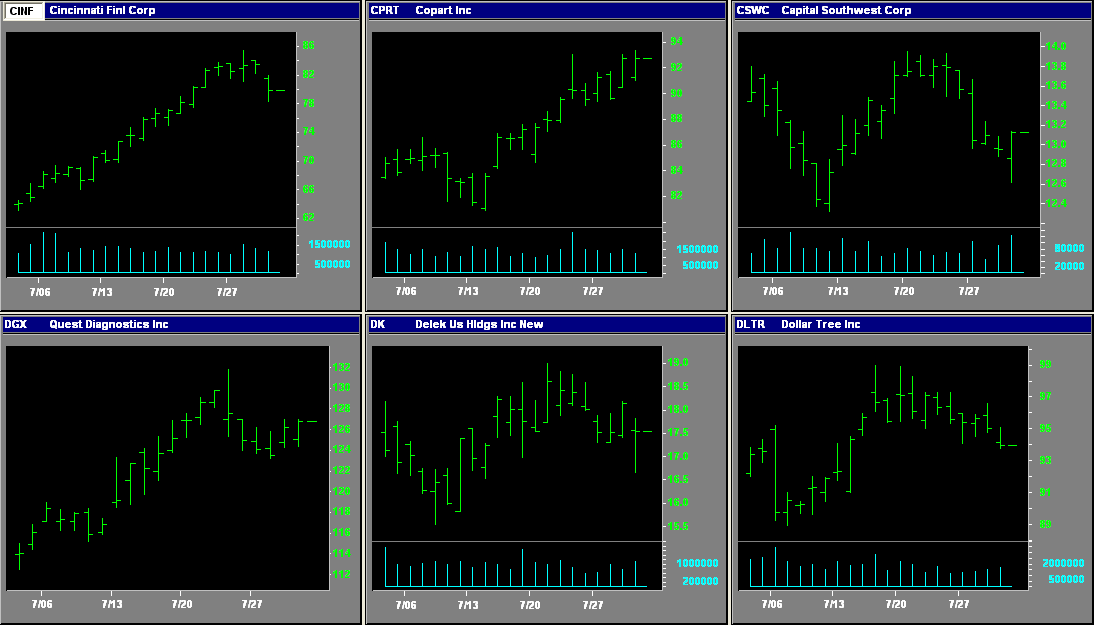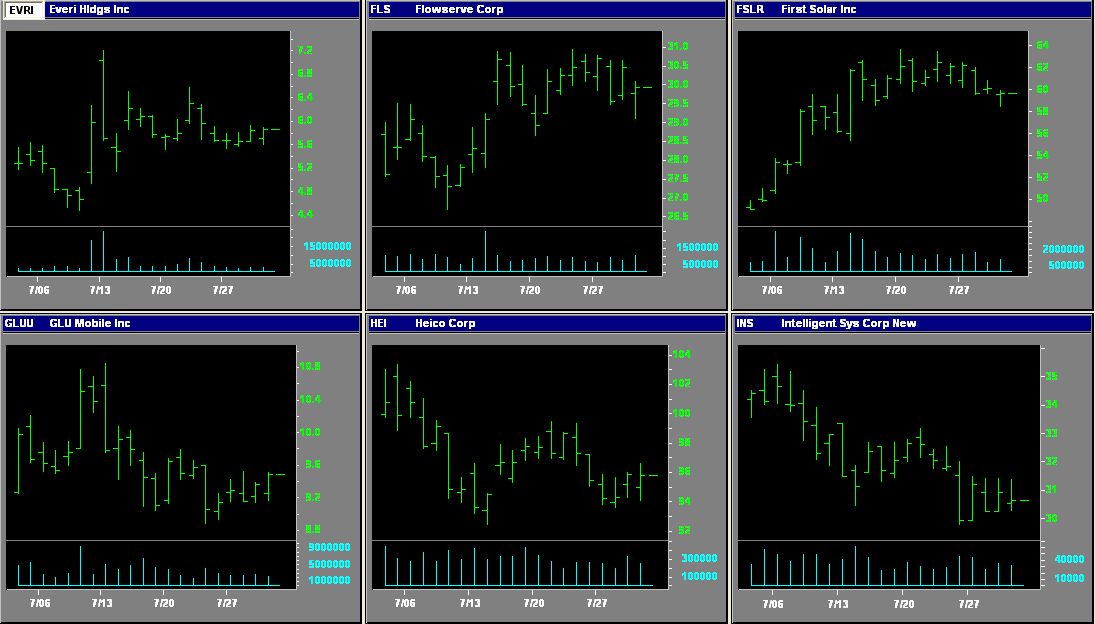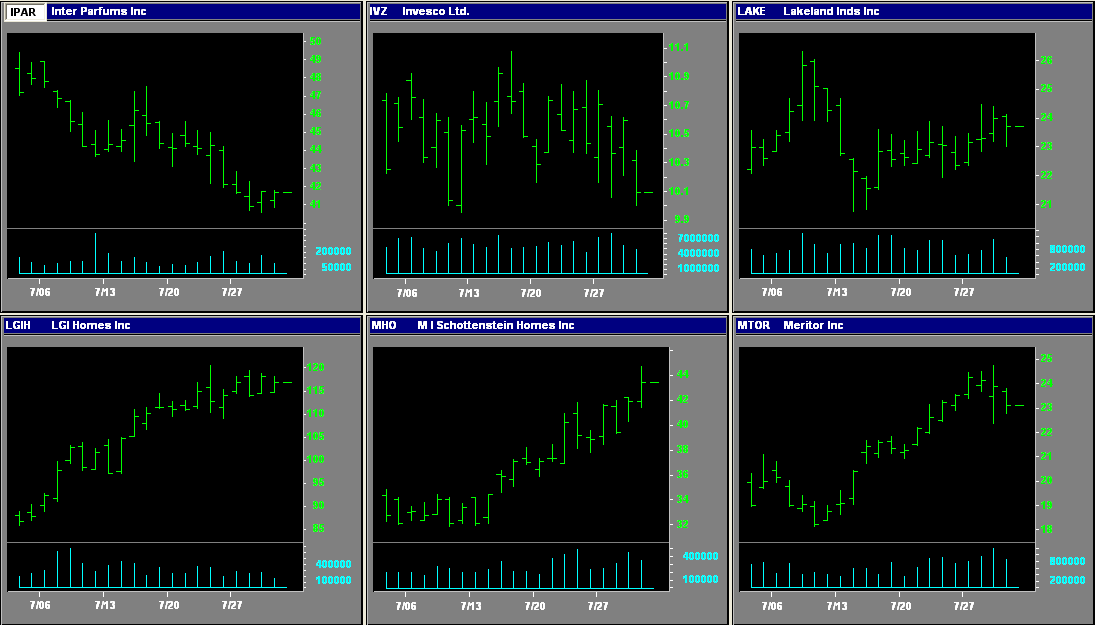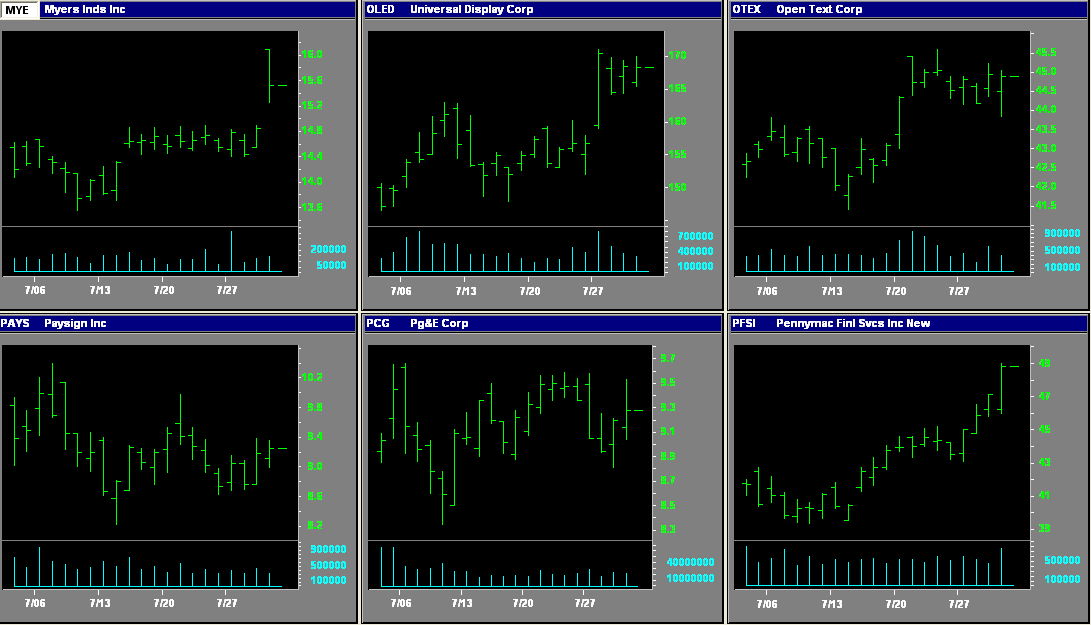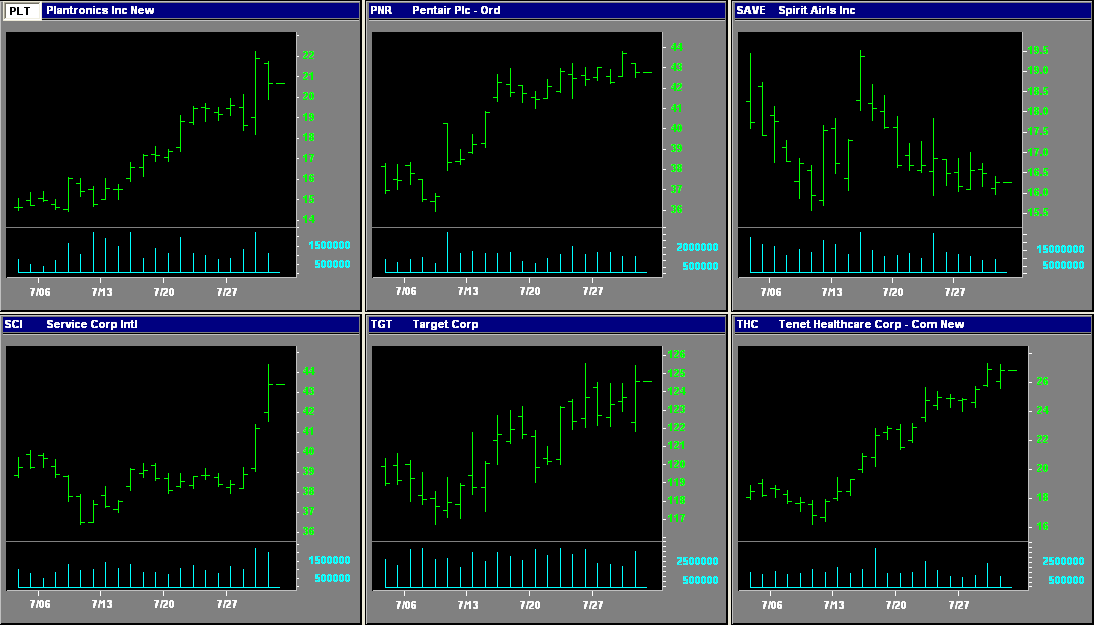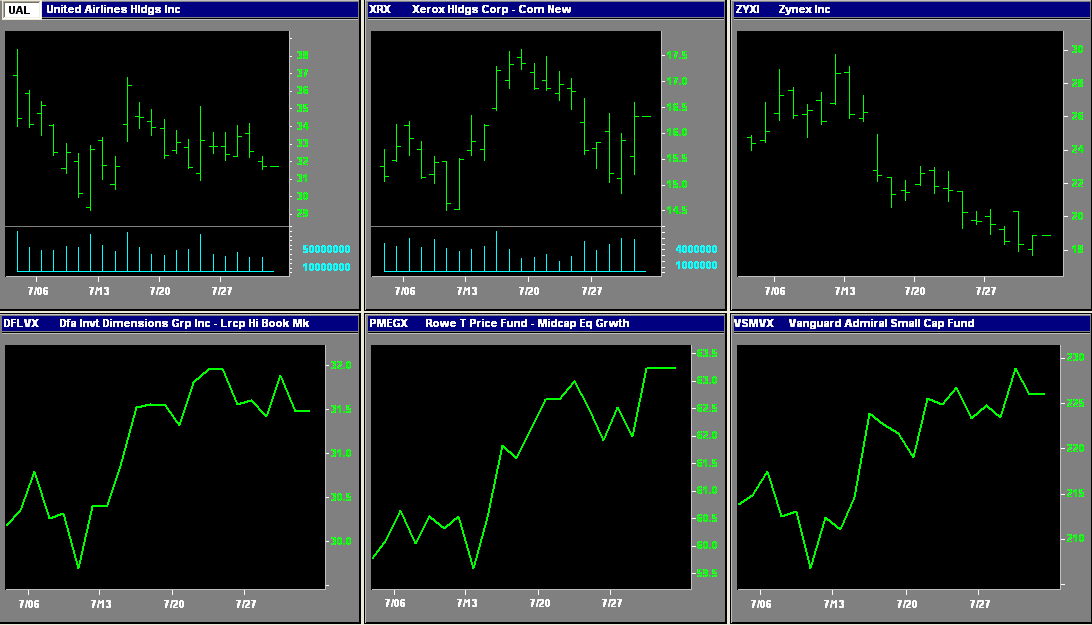 What are the last three entries in the Active Stocks chart list? These represent typical high-, low-, and mid-cap mutual funds to help us gage the tenor of the stock market as a whole.

Archive List
12-08-2016: Vera Bradley, Inc. (VRA): Iconic Brand Handbags
11-30-2016: Omega Heathcare Investors, Inc. (OHI): High Dividend Payer
11-27-2016: China Automotive Systems, Inc. (CAAS): Large Supplier of Automotive Components to Chinese Market
11-24-2016: Lee Enterprises, Inc. (LEE): Local Newspapers Round the Country
11-17-2016: Citizens Financial Group, Inc. (CFG): Post Election Optimism for Banks
11-05-2016: Supreme Industries Inc. (STS): Backlog Orders Crumble
11-02-2016: Aegean Maritime Petroleum Network, Inc. (ANW): World's Largest Supplier of Fuel
10-31-2016: Goodyear Tire & Rubber Co. (GT): Recemt Drop May Be Unwarranted
10-18-2016: Omnicom Group, Inc. (OMC): Revenues May Be Affected by Currency Relations
10-14-2016: Applied Materials Inc. (AMAT): Wafer Fabrication Equipment Sales Soar
10-01-2016: Wyndham Worldwide Corporation (WYN): Large Assets and Large Debt
09-25-2016: Loews Corporation (L): Conglomerate
09-17-2016: E*Trade Financial Corporation (ETFC): Management's Revolving Door
09-10-2016: KeyCorp (KEY): Consolidation Drags Down Share Price
09-08-2016: Taylor Devices Inc. (TAYD): Seismic Damers, Vibration Isolators, Shocks
09-03-2016: Charles Schwab & Co., (SCHW): Programming Problems
08-27-2016: Westrock Company (WRK): Containerboard Behemoth
08-19-2016: Albemarle Corporation (ALB): Lithium Miner
08-11-2016: Staples, Inc. (SPLS): Failed Merger with Office Depot
08-01-2016: Prologis, Inc. (PLD): R/E Rental Market Recovery
07-28-2016: MKS Instruments, Inc. (MKSI): Diversified Customer Base
07-25-2016: Tahoe Resources, Inc. (TAHO): Silver Bubble?
07-08-2016: Fiserv, Inc. (FISV): Cashless Society
07-01-2016: Delta Air Lines Inc. (DAL): Under-Priced By Historic Standards
06-27-2016: Rayonier Advanced Materials Inc. (RYAM): Environmental and Debt Liabilities
06-22-2016: Cambrex Corporation (CBM): Active Pharmaceutical Ingredients
06-18-2016: Manhattan Associates Inc. (MANH): Huge Global Retailer Presence
06-14-2016: Big Lots, Inc. (BIG): Slow Steady Growth
06-04-2016: Citrix Systems Inc. (CTXS): Better Off Without Microsoft
05-31-2016: Pilgrim's Price Corporation (PPC): Brazilian-Owned withi Recalls
05-23-2016: Convergys Corporation (CVG): If You Want That Press This
05-19-2016: Masco Corporation (MAS): Faucets and Paint
05-12-2016: Targa Resources Corp. (TRGP): Success In Difficult Times
05-06-2016: MasTec, Inc. (MTZ): Prospects versus Financial Soundness
05-02-2016: Old Republic International, Inc. (ORI) Diversified Multi-Line Insurance
<04-28-2016: Federated Investors, Inc. (FII): Who Is Really Best?
04-22-2016: Net 1 UEPS Technologies, Inc. (UEPS): Overlooked Stock Until Recently
04-12-2016: CSG Systems International, Inc. (CSGS): Leader in Cable TV Billing Services
04-08-2016: Frontier Communications Inc. (FTR): Land LInes Not Dead
04-02-2016: Thor Industries Inc. (THO): Motor Home Craze
---
Stock Performance

Trading in stocks involves risk, and past performance is no guarantee of future profits. Zenith does not sell advice nor does it manage discretionary accounts other than its own. Readers should be aware of the vested interest that all traders / brokers have in encouraging other traders to make the same transactions. No one should follow investment advice blindly. This web site should be used only as a "sounding board" forconfirming one's own opinion. Any suggested order placements should be reviewed and reset to fit current market conditions by individual traders.

Recommendations may include trades which have already been made on the same or a previous day,otherwise the issue is placed on a "watch list." Suggested stock trades are based upon an approximate maximum $30,000 capitalization requirement per trade. Zenith's actual trades may be larger.
Click here to E-Mail Zenith!