02-07-2020: Flowserve Corp. Competes in Industrial Flow Control of Liquids and Gasses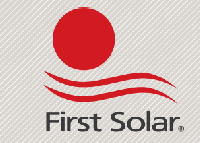 In the highly competitive flow control industrial machinery complex exists one company, Flowserve Corporation (FLS), which we think would make a relatively low-risk range trading stock. It is making a comeback after years of declining profits, and shows the potential to recover through diversification. Its prior dependence upon the oil and gas industry has been holding back this Texas-based company, but it has increasing business worldwide with other types of industrial plants and utilities.

Our recent article on Flowserve Corporation (FLS) is in the Archives Section Below.

Zenith's Active List of 39 Stocks as of 02/08/2020
(Updated once a week, usually on Saturday except when less than 5 trading days in the week.)
Note: Zenith tries to pick only stocks which are shortable, but sometimes stocks appear afterward on the SEC Regulation SHO list of stocks which are not shortable, which is beyond our control. On some stocks, Zenith may hold more than the number of shares it trades in its inventory. Thus the "short" sale of such a security would technically not be a "short" sale for us and not subject to SEC rules regarding selling securities which are not deliverable. Also, stocks pop on and off the list available for shorting on successive days, so the presence of a stock on the current SHO list doesn't mean it was there at the time it was shorted.
Stocks recently restricted by SEC Rule 201 as not shortable unless we already have a position which are on our Active List include: EPH (07/06)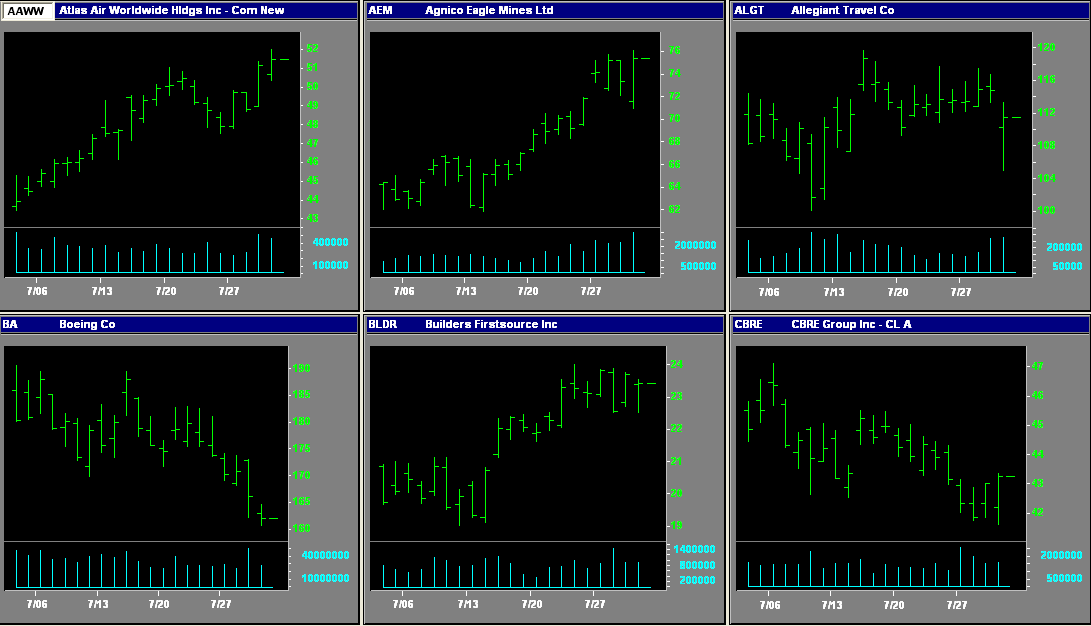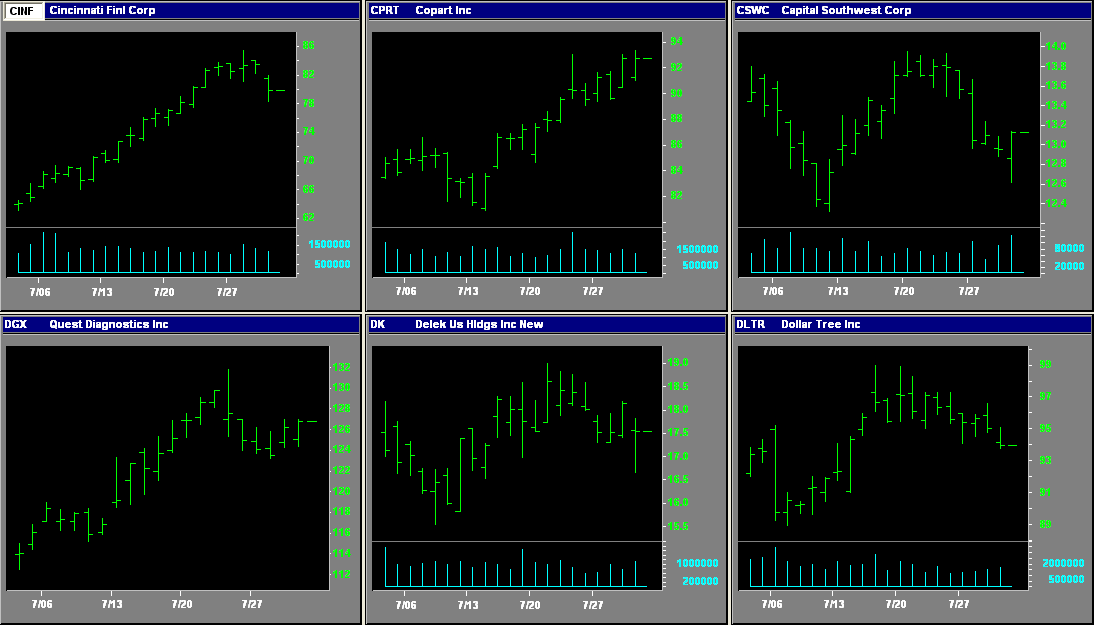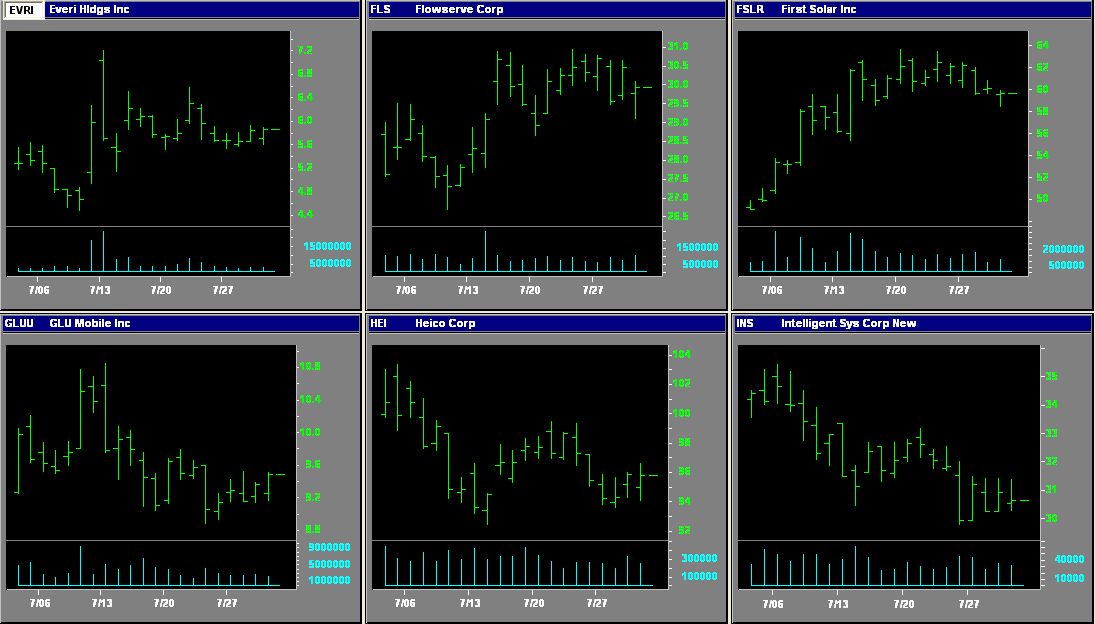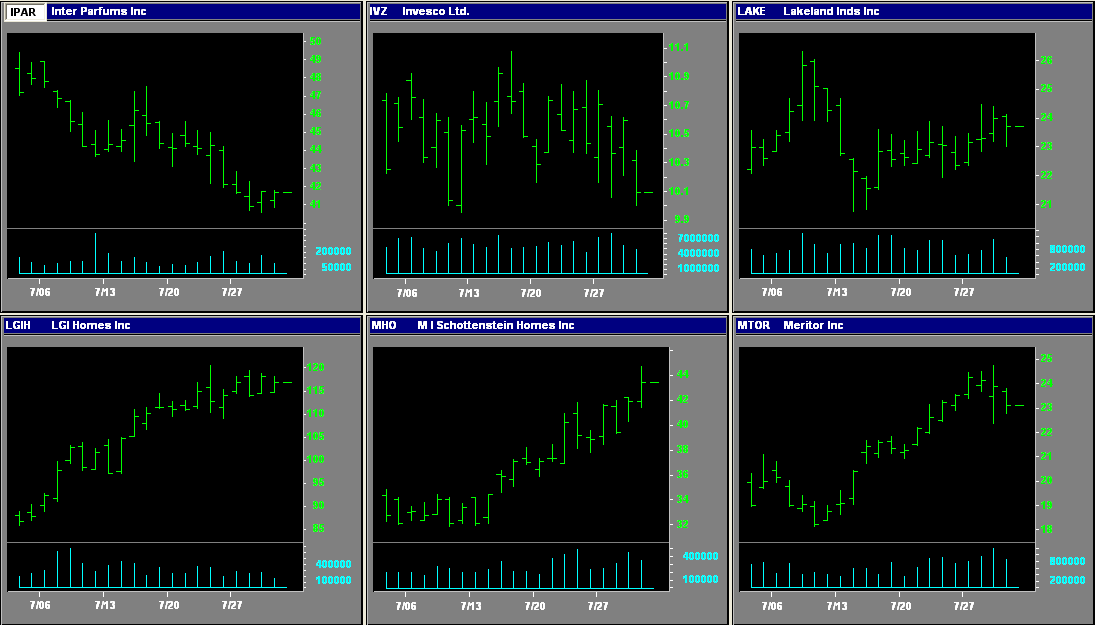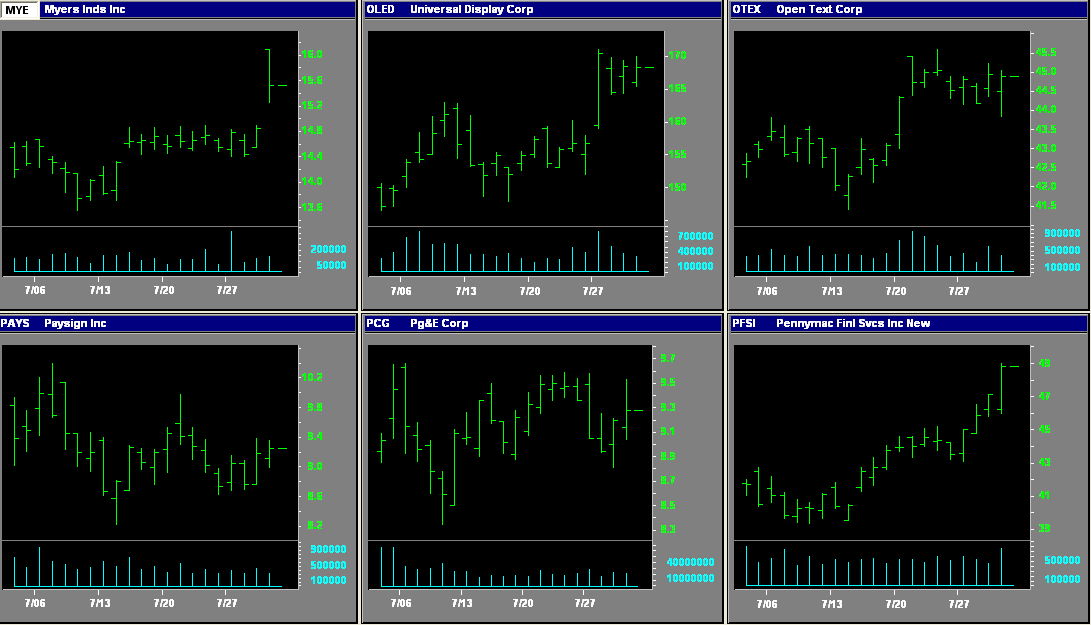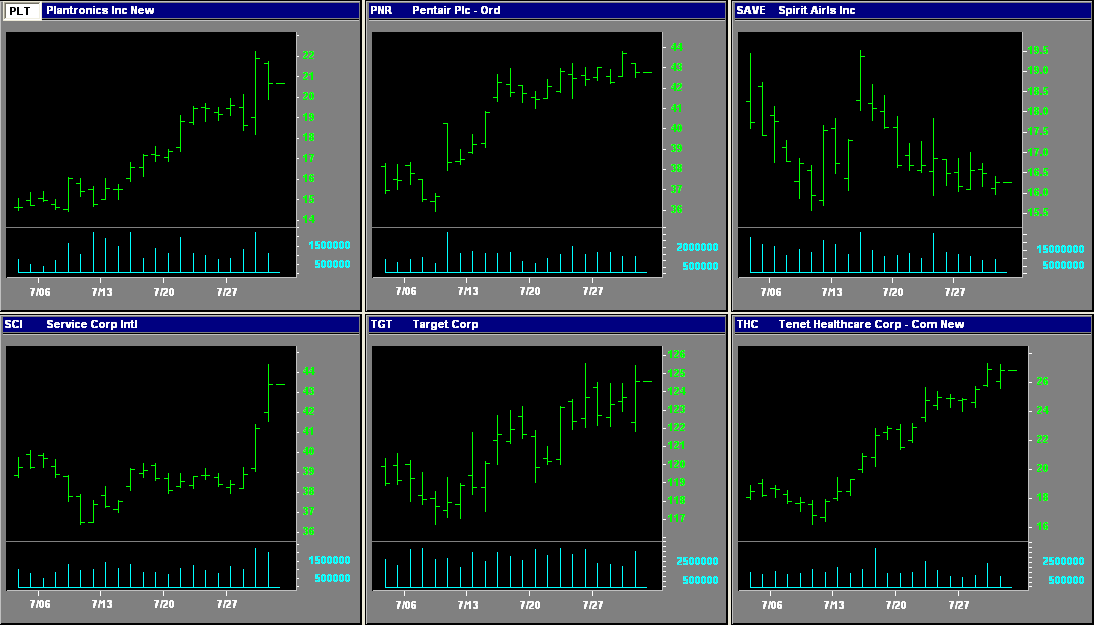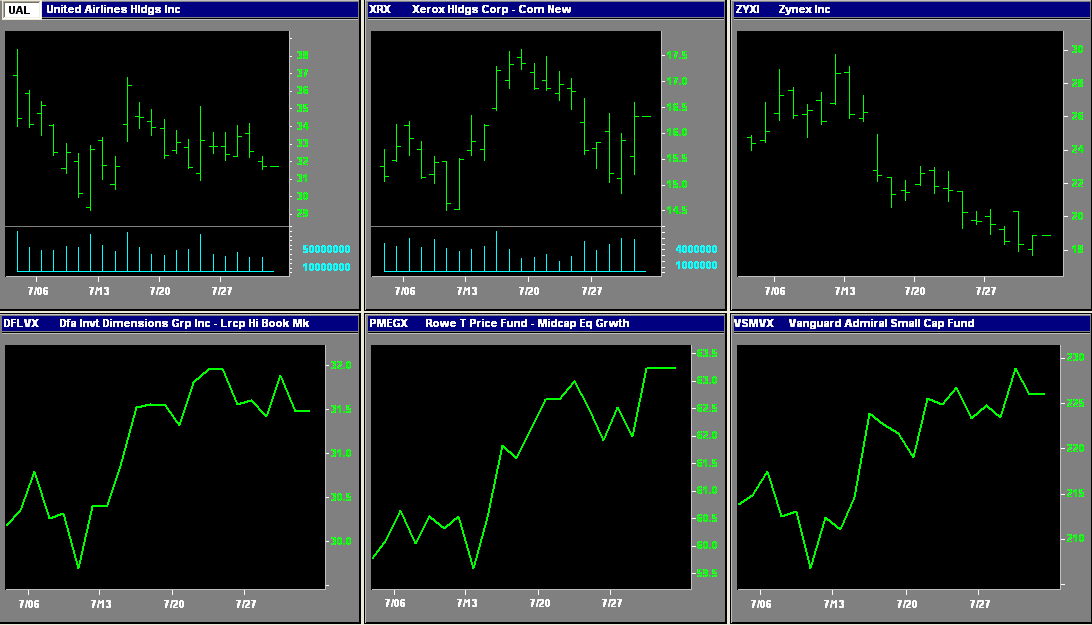 What are the last three entries in the Active Stocks chart list? These represent typical high-, mid-, and low-cap mutual funds to help us gage the tenor of the stock market as a whole.

Archive List
02-07-2020: Flowserve Corporation (FLS): Flow Control Valves & Other Industrial Machinery
01-28-2020: Xerox Holdings Corporation (XRX): HP Takeover Bid
01-22-2020: United Airlines Holdings Inc. (UAL): Boeing Problems
01-11-2020: Target Corporation (TGT): Awaiting Earnings for Stock Jumps
01-07-2020: BuildersFirstsource, Inc. (BLDR): Digesting Acquisitions
12-22-2019: Quest Diagnostics, Inc. (DGX): Recent Data Breach
12-17-2019: Plantronics, Inc. (PLT): Massive Inventory Writedown
12-07-2019: Tenet Healthcare Inc. (THC): Activist Intervention
11-12-2019: Arconic Inc. (ARNC): Fabricated Engineered Aluminum Products
11-02-2019: Universal Display Corporation (OLED): Organic Light Emitting Diodes
10-28-2019: Intelligent Systems, Inc. (INS): Accounting Management Software
10-23-2019: Copart, Inc. (CPRT): Wrecks for Sale at Low Auction Bids
10-19-2019: Meritor, Inc. (MTOR): Heavy Duty Axles, Gears, Suspension Parts
10-12-2019: Allegiant Travel Company (ALGT): Lower Fares on Less Traveled Routes
10-08-2019: LGI Homes, Inc. (LGIH): Staggering Growth Rate
09-25-2019: Dollar Tree, Inc. (DLTR): Holding the $1 Line on Pricing and Goods
08-31-2019: Heico Corporation (HEI).: Outstanding Aerospace Supplier
08-24-2019: Myers Industries Inc. (MYE): Getting Out of Lawn & Garden Container Business
08-18-2019: Delek US Holdings, Inc. (DK): Awaiting Oil Price Recovery
08-13-2019: M / I Homes, Inc. (MOH): Booming After Recession Recovery
08-09-2019: Inter Parfums Inc. (IPAR): Perfume Industry Strong Performer Lately
08-02-2019: Mobile Mini Inc. (MINI): Strong Construction Industry Container Niche
07-27-2019: Agnico Eagle Mines Ltd. (AEM): Gold Price May Rise Dramatically
07-21-2019: Paysign, Inc. (PAYS): Credit Card Services Group Soars
07-12-2019: Service Corporation International (SCI): Not Much Changes in the Funeral Industry
07-06-2019: Enphase Energy, Inc. (ENPH): Trade Relations Improvement Hopes
06-28-2019: Blackstone Mortgage Trust Inc. (BXMT): Fingers In Many Pies
06-21-2019: Under Armour, Inc. (UA): Some Things Not To Like About This Stock
06-15-2019: Xperi Corporation (XPER): Confusing Array of Licensed Technologies
05-19-2019: Cardtronics plc (CATM): Cashless Society Not Likely
05-10-2019: Lithia Motors, Inc. (LAD): Internet-Linked Dealerships
05-03-2019: Portland General Electric, Inc. (POR): Interesting History
04-27-2019: Rent-A-Center, Inc. (RCII): Management Avoids a Hostile Takeover
04-23-2019: Church & Dwight Co., Inc. (CHD): Sets Reporting Standard
04-18-2019: CyberArk Software, Ltd. (CYBR): Cyber Security Relies Upon Foreign-Based Technology
04-11-2019: Calix, Inc. (CALX): Risky, Riding on the Edge
04-04-2019: RH (RH): Troublesomely Funky
03-28-2019: Carter's Inc. (CRI): Infants' and Babies' Wear Manufacturer
03-22-2019: Domino's Pizza Inc. (DPZ): Large Negative Shareholder Asset Value
03-15-2019: Wesco International Inc. (WCC): Venerable Electric Parts Supplier

Stock Performance
Trading in stocks involves risk, and past performance is no guarantee of future profits. Zenith doesnot sell advice nor does it manage discretionary accounts other than its own. Readers should be aware of the vested interest that all traders / brokers have in encouraging other traders to make the same transactions. No one should follow investment advice blindly. This web site should be used only as a "sounding board" forconfirming one's own opinion. Any suggested order placements should be reviewed and reset to fit current market conditions by individual traders.

Recommendations may include trades which have already been made on the same or a previous day,otherwise the issue is placed on a "watch list." Suggested stock trades are based upon an approximate maximum $30,000 capitalization requirement per trade. Zenith's actual trades may be larger.
Click here to E-Mail Zenith!