12-07-2019: Will Activist Shareholder Intervention Improve the Fortunes of Tenet Healthcare?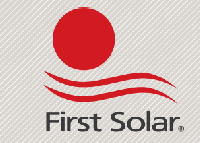 When in activist capital management company succeeds in taking over management of a large corporation in which it has substantial holdings, often it can result in mismanagement or the loss of factors that made the original corporation great. Tenet Healthcare (THC) is a very large healthcare insurance corporation which was showing poor results, had a huge debt load, and had extensive management changes more or less forced upon it after a couple of major scandals regarding billing practices and unnecessary surgeries.
The corporation's stock has fallen out of favor with most analysts and researchers, but has climbed higher on extensive insider share purchases by Glennview Capital Management. How long this can continue is questionable, but the corporation continues to be about to sell off a third of its total assets and that will affect revenues. (The spinoff is a major contributor.)
Our recent article on Tenet Healthcare, Inc. (THC) is in the Archives Section Below.

12-07-2019: Zenith Struggles to Keep Website Afloat
Readers who have managed somehow to land on this site eventually realize that there is really nothing for sale on this site. Information gleaned from other places freely on the Internet is gathered and provided conveniently in one spot for your viewing at absolutely no charge. Perhaps the only gain is any influence we might have to cause others to think as we do, and thus create self-fulfilling prophecies for future stock and commodity movements. But we are not programmers or information technology specialists. Our main concern is stocks and commodities. Our website is loaded with HTML errors, caused largely by changing HTML standards and worse, constantly "upgraded" operating systems offered where little or no effort is made to make newer ones compatible with older ones.
Zenith's long established goal is to avoid upgrading and allow this site to be readable by anyone iwth Windows 95 or later and Internet Explorer 6 or later. Unfortunately, lack of consistency among browser standards causes our site to come up differently in different browsers. We get offers all the time from corporations who want to "fix" our site` to get rid of" errors", but when we tell them we want to make it compatible with Windows 95 and original HTML standards, they balk because it will not be entirely compatible with Windows 10. Microsoft's abandonment of supporting MS-DOS after Windows XP is largely responsible for some of these problems. We could adapt using vitual machines or "MSDOS Box" software not created by Microsoft, but so far any efficienty gains simply would not justify the time and effort.
So we continue to limp along with access to sites that work less and less well on our legacy systems, while we refuse to "upgrade" any fiurther. However the loss of many former sites that are no longer accessible to us may force us to begin to strip out certain features of this site that have become too time-consuming to maintain. Meanwhile, we will try to maintain this site as best we can, given restrictions regarding any form of operating system "upgrading" which is annoying to all but the worst programmers who continually seek Microsoft "support." But the quality and speed with which we can produce articles will definitely be negatively affected. Hardware and software crashes are becoming more frequent, and availability of parts and assistance increasingly cumbersome. But we will struggle along with frequent service interruptions as long as we can until the "final crash." At that time, Zenith will have to "re-birth" itself in a redesign of format and location or just die out altogether.
What good is this site? Its purpose for you should be to allow you to "benchmark" your own performance with ours and to see if anything we are doing as indicated by methodolgy suggested in articles where no amount of detailed information is considered "too much" could benefit you in your trading. Hopefully, it's more a matter of "how" you might do, not "what" or "when" you "should" do, where the latter is left for you to figure out for yourself. This site is just an attempt to supply ideas in a standard format. Comments, good or bad, are always welcomed through the e-mail link at the bottom of front pages.

Zenith's Active List of 39 Stocks as of 11/23/2019
(Updated once a week, usually on Saturday except when less than 5 trading days in the week.)
Note: Zenith tries to pick only stocks which are shortable, but sometimes stocks appear afterward on the SEC Regulation SHO list of stocks which are not shortable, which is beyond our control. On some stocks, Zenith may hold more than the number of shares it trades in its inventory. Thus the "short" sale of such a security would technically not be a "short" sale for us and not subject to SEC rules regarding selling securities which are not deliverable. Also, stocks pop on and off the list available for shorting on successive days, so the presence of a stock on the current SHO list doesn't mean it was there at the time it was shorted.
Stocks recently restricted by SEC Rule 201 as not shortable unless we already have a position which are on our Active List include: PAYS (07/21)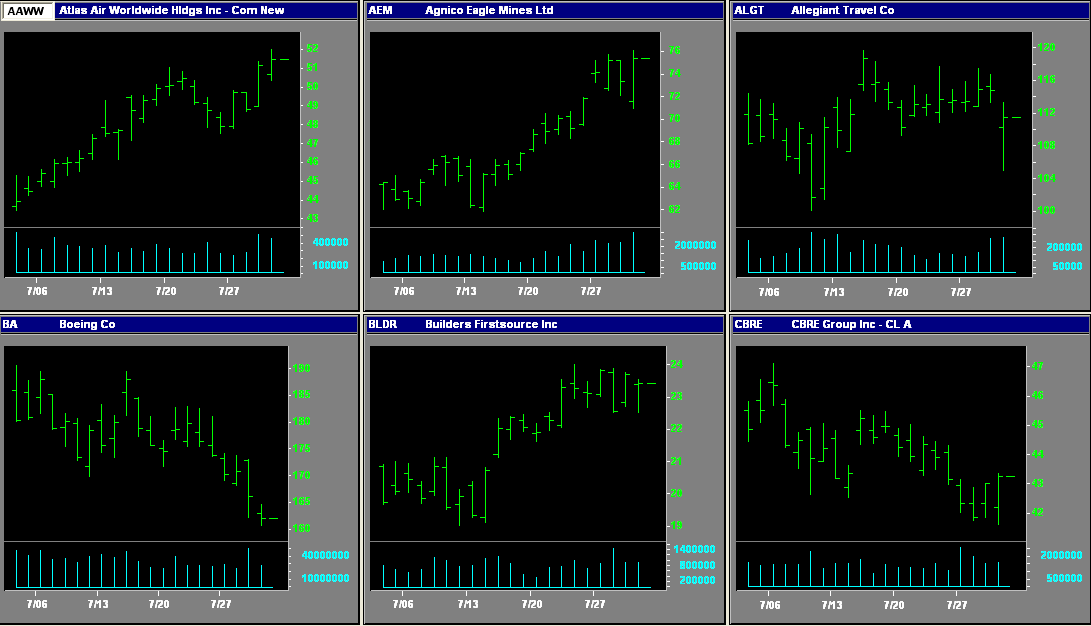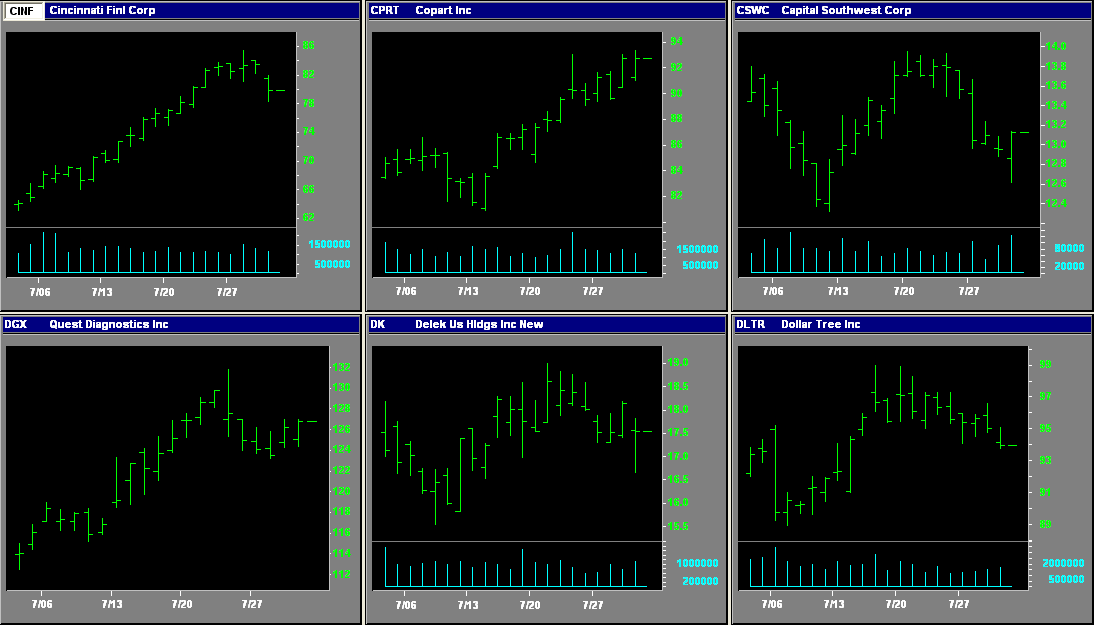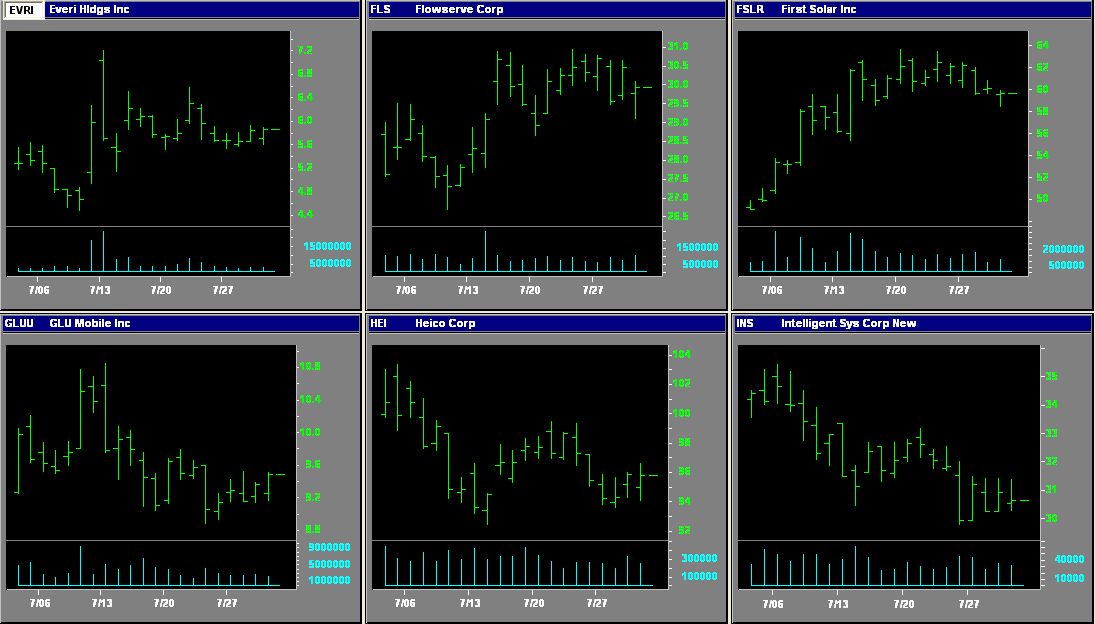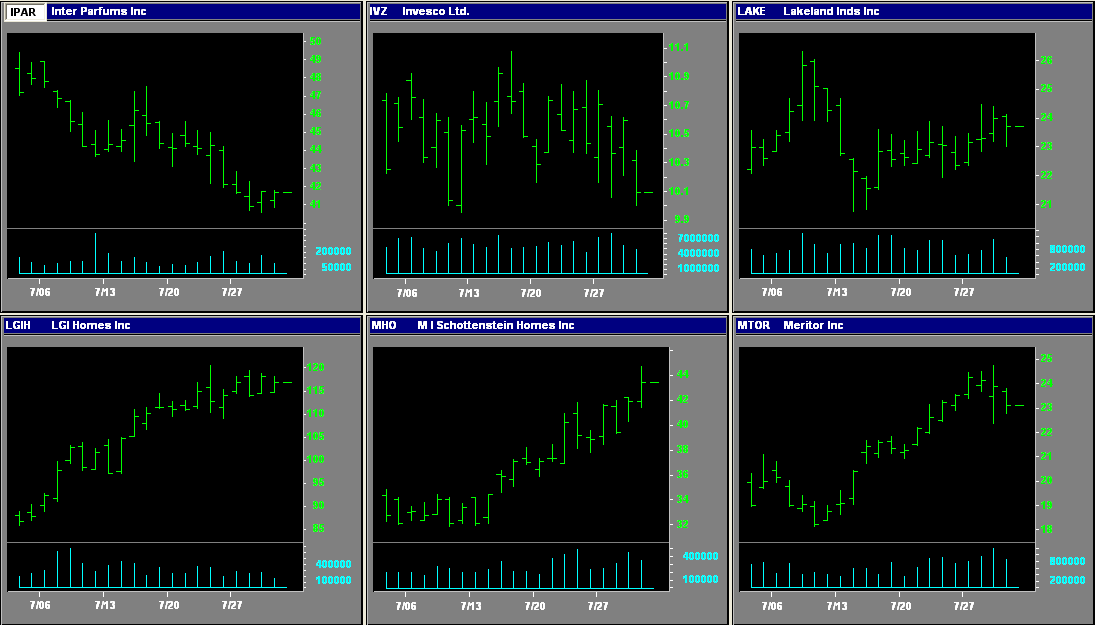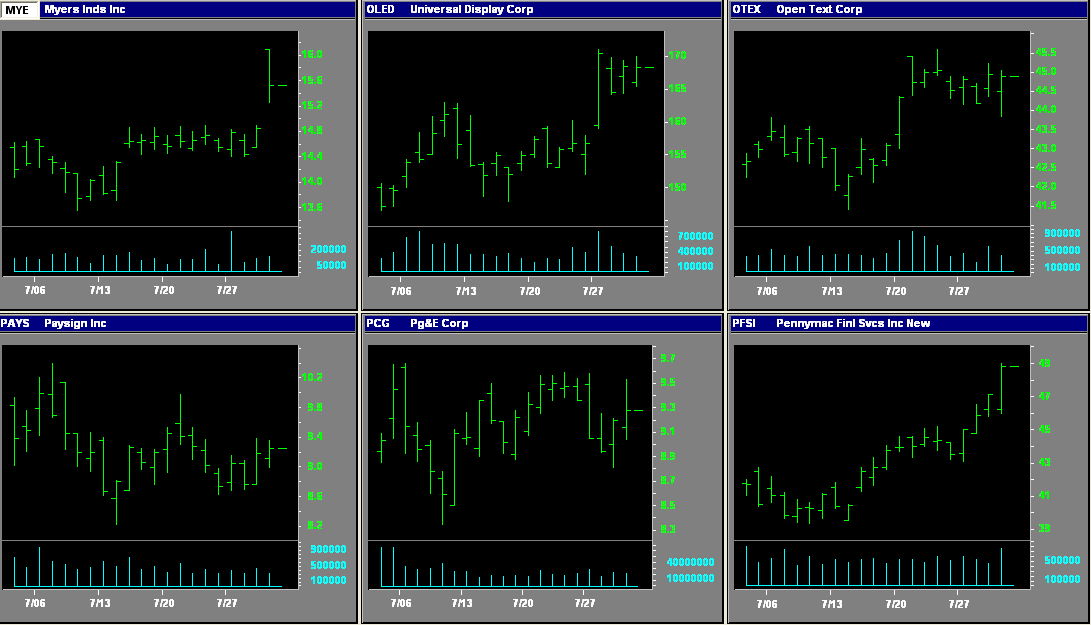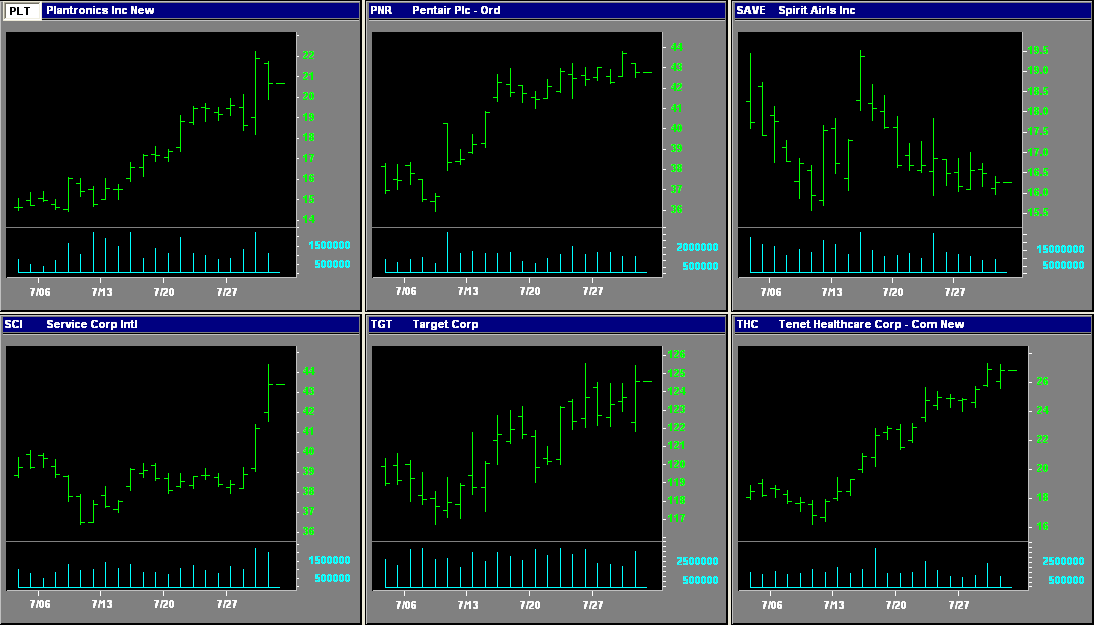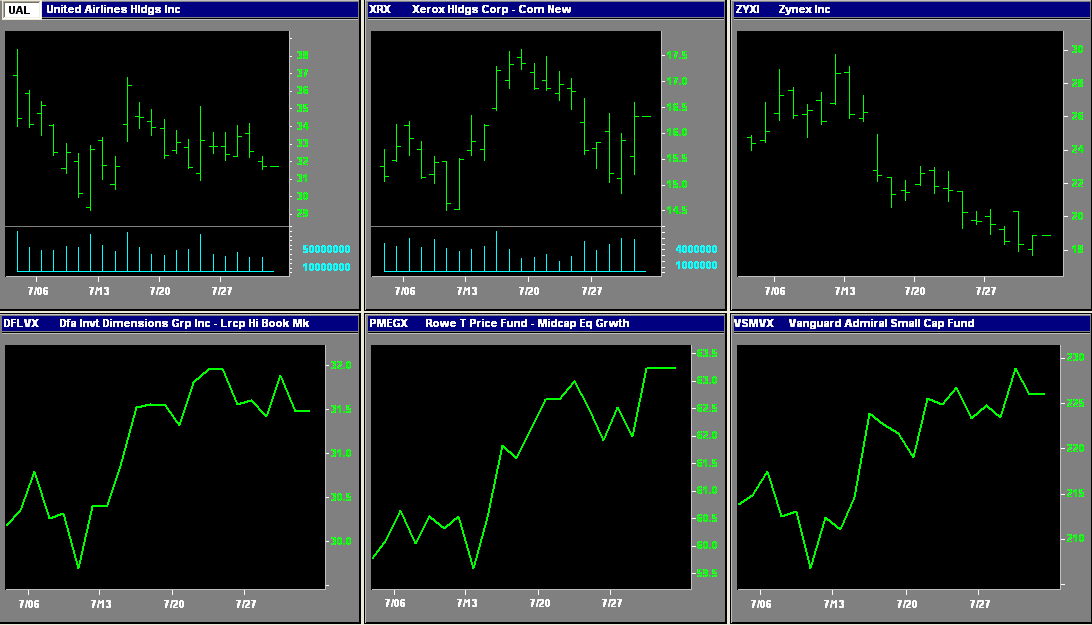 What are the last three entries in the Active Stocks chart list? These represent typical high-, mid-, and low-cap mutual funds to help us gage the tenor of the stock market as a whole.

Archive List
12-07-2019: Tenet Healthcare Inc. (THC): Activist Intervention
11-12-2019: Arconic Inc. (ARNC): Fabricated Engineered Aluminum Products
11-02-2019: Universal Display Corporation (OLED): Organic Light Emitting Diodes
10-28-2019: Intelligent Systems, Inc. (INS): Accounting Management Software
10-23-2019: Copart, Inc. (CPRT): Wrecks for Sale at Low Auction Bids
10-19-2019: Meritor, Inc. (MTOR): Heavy Duty Axles, Gears, Suspension Parts
10-12-2019: Allegiant Travel Company (ALGT): Lower Fares on Less Traveled Routes
10-08-2019: LGI Homes, Inc. (LGIH): Staggering Growth Rate
09-25-2019: Dollar Tree, Inc. (DLTR): Holding the $1 Line on Pricing and Goods
08-31-2019: Heico Corporation (HEI).: Outstanding Aerospace Supplier
08-24-2019: Myers Industries Inc. (MYE): Getting Out of Lawn & Garden Container Business
08-18-2019: Delek US Holdings, Inc. (DK): Awaiting Oil Price Recovery
08-13-2019: M / I Homes, Inc. (MOH): Booming After Recession Recovery
08-09-2019: Inter Parfums Inc. (IPAR): Perfume Industry Strong Performer Lately
08-02-2019: Mobile Mini Inc. (MINI): Strong Construction Industry Container Niche
07-27-2019: Agnico Eagle Mines Ltd. (AEM): Gold Price May Rise Dramatically
07-21-2019: Paysign, Inc. (PAYS): Credit Card Services Group Soars
07-12-2019: Service Corporation International (SCI): Not Much Changes in the Funeral Industry
07-06-2019: Enphase Energy, Inc. (ENPH): Trade Relations Improvement Hopes
06-28-2019: Blackstone Mortgage Trust Inc. (BXMT): Fingers In Many Pies
06-21-2019: Under Armour, Inc. (UA): Some Things Not To Like About This Stock
06-15-2019: Xperi Corporation (XPER): Confusing Array of Licensed Technologies
05-19-2019: Cardtronics plc (CATM): Cashless Society Not Likely
05-10-2019: Lithia Motors, Inc. (LAD): Internet-Linked Dealerships
05-03-2019: Portland General Electric, Inc. (POR): Interesting History
04-27-2019: Rent-A-Center, Inc. (RCII): Management Avoids a Hostile Takeover
04-23-2019: Church & Dwight Co., Inc. (CHD): Sets Reporting Standard
04-18-2019: CyberArk Software, Ltd. (CYBR): Cyber Security Relies Upon Foreign-Based Technology
04-11-2019: Calix, Inc. (CALX): Risky, Riding on the Edge
04-04-2019: RH (RH): Troublesomely Funky
03-28-2019: Carter's Inc. (CRI): Infants' and Babies' Wear Manufacturer
03-22-2019: Domino's Pizza Inc. (DPZ): Large Negative Shareholder Asset Value
03-15-2019: Wesco International Inc. (WCC): Venerable Electric Parts Supplier
03-01-2019: Eaton Corporation (ETN): Electric Power Products Mfr Based in Ireland
02-22-2019: Abercrombie & Fitch Co. (ANF): Teen and Kid Fashions
02-17-2019: Whiting Petroleum Corporation (WLL): Crude Oil Price Recovery
02-11-2019: HMS Holdings, Inc. (HMSY): Healthcare Management Software
02-04-2019: Kemet Corporation (KET): A Leader in Capacitor Development
01-30-2019: Etsy, Inc. (ETSY): Of Benefit To Whom?
01-23-2019: Ameresco Corporation (AMRC): Energy Saving Infrastructure Improvement

Stock Performance
Trading in stocks involves risk, and past performance is no guarantee of future profits. Zenith doesnot sell advice nor does it manage discretionary accounts other than its own. Readers should be aware of the vested interest that all traders / brokers have in encouraging other traders to make the same transactions. No one should follow investment advice blindly. This web site should be used only as a "sounding board" forconfirming one's own opinion. Any suggested order placements should be reviewed and reset to fit current market conditions by individual traders.

Recommendations may include trades which have already been made on the same or a previous day,otherwise the issue is placed on a "watch list." Suggested stock trades are based upon an approximate maximum $30,000 capitalization requirement per trade. Zenith's actual trades may be larger.
Click here to E-Mail Zenith!