To return to Stocks portion of this site click here.

06-23-2019: U.S. Dollar Plummets on Interest Rate Cut Fears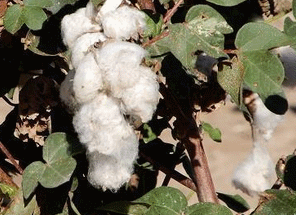 Affecting markets greatly are increasing hints from the Federal Reserve that it may cut interest rates early in a tightening cycle. Common sense would suggest that is largely governed by politics, from which the Fed is supposed to be immune. But like everything else affected by the Trump Administration, it is clear the President would like to see rates cut to help boost the stock market even further away from reasonable valuation. The President declares he "won't be around" when the whole slippery system collapses.
What people are losing sight of here is that while yes, we may be sliding into a recession due to incredibly bad Federal fiscal management, a huge oiverhanging national debt (we are the biggest debtor nation in the world!), and trade tariffs that will be passed on to U.S. consumers to cause the cost of living to skyrocket, the inevitable result of all this mismangement will be runaway inflation. Inflation makes the U.S. Dollar worth less, not more, and that is what Trump would like to see to help his buddies with exports.
The tradgedy of all this is that most Americans do not understand or perhaps even care (yet) about this proicess. The Democrats appear to be blowing their opportunity to effect change by having as a front runner what we call "the spoiler", Biden, who comes in at the last minute to give us the "same old, same old" good old boy network of Democrat mismangement as well.
What is needed in this country now after the absolute mess made of the Federal Government by the destroyer in the White House are drastic and reasonable reforms in Government to place the nation back on a painful, long, fiscal management track that will undo the favoritism and politics that has begun to destroy this nation for all except the very rich. We strongly support Elizabeth Warren's candidacy, but doubt Americans will have the wisdom to see that the progressive reforms she proposes are neither unreasonable nor political, but simply corrective measures desperately needed before the situation gets much worse.
Our recent article on the U.S. Dollar Index is in the Archives Section below.


06-20-2019: Some Commodities We Haven't Currently Reviewed
How do we pick a commodity for review? Here are technical strength or weakness ratings for 06/19//2019 on the other major commodities not being currently being reviewed or traded on this site. One way to choose a commodity for review is to look at the previous activity and compare it to the present one, to see if there were any dramatic changes. Commodities currently under review on our list of about 18 on this site are not shown below. It's just a way of keeping track of what else is going on with other commodities.
---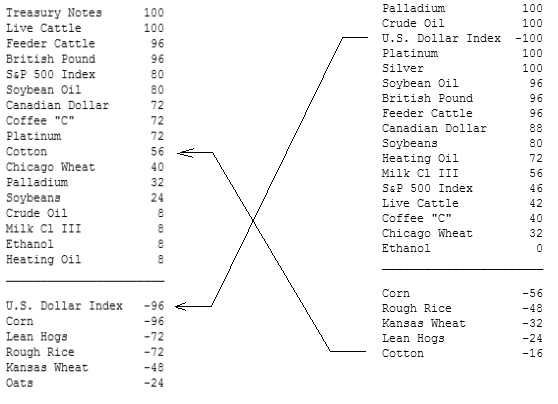 The ratings are good only for date shown, and rapidly change each day, whereas we review the list only periodically. Once a commodity appears on our list of articles and is being currently traded, we consider its long-term direction has been established and trade consistently from that direction wtihout worrying about day-to-day changes. However, that procedure is not the one we use in swing trading stocks.

06-23-2019: September U.S. Dollar Index: Interest Rate Cut Rumors
06-17-2019: August Gold: Mideast Crises, Interest Rates and National Debt Force Gold Up
06-09-2019: September Canadian Dollar: Trade Wars and Interest Rates
06-03-2019: August Crude Oil: Deflationary Pressures
05-15-2019: August Lean Hogs: African Swine Fever Vs. Trump Trade Mess
05-05-2019: June Ethanol: E15 Mandates Help
04-30-2019: July Soybeans: Flooding Causes Planting Intentions Switch
04-24-2019: June Swiss Franc: Negative Interest Rates
04-19-2019: June Gasoline: California Read Misleading
04-16-2019: July Platinum: Catalytic Converters Use Determines Demand
04-07-2019: May Oats: Cancer Concerns Remain
04-01-2019: June Euro Currency: Weakened by both Brexit & Italy
03-24-2019: June Treasury Bonds: Inverted Yield Curve
03-16-2019: April Milk Class III: Below Cost of Production
03-12-2019: May Corn: Intense Foreign Competition
03-07-2019: May Chicago Wheat: Lack of Exports Due to Competition
02-26-2019: July Coffee: Below Cost of Production
02-20-2019: April Heating Oil: Not Correlating Well with Gasoline
02-13-2019: May Copper: Not If but When Price Will Rise
02-06-2019: March S&P 500 Index: Plunge Fears Fade
02-01-2019: April Live Cattle: Freezing Weather in the Plains States
---
Updated once a week (usually on Saturdays) unless the preceding week had less than five trading days.

The July Oats contract was adjusted for a roll forward from May to July which is why initial price does not agree with previously reported one.
All Commodities Trades: 04/01/2019 - 06/22/2019

 # Commodity           BS    Buy   Sell   Last    Gain Intended  Rough   Group
                                                 (Loss)    Risk Percent

 9 Jul Ethanol          L 156.40        157.50 $  2,601  14,877  20.0% Energies
21 Jul Corn             C 438.30 455.30 442.20 $ 17,220  14,805  20.0% Grains  
13 Sep Canadian Dollar  C  74.93  75.87  75.83 $ 11,830  14,950  20.0% Currency
 4 Aug Crude Oil        S         57.75  57.43 $  1,160  14,960  20.0% Energies
41 Jul Milk Cl.III      C  16.77  17.18  17.08 $ 32,390  14,760   5.0% Dairy   
 8 Sep U.S.Dollar Index C  96.02  96.87  95.72 $  6,560  14,880  20.0% Currency
 4 Sep S & P 500 E-Mini C 288.30 295.73 295.05 $  1,366  14,660   4.9% Stock Id
 5 Sep Euro Currency    S        114.08 114.44 $ -2,400  14,938  20.0% Currency
 4 Aug Gold             C 134.20 140.97 140.01 $ 26,960  14,960  10.0% Prec Met
 5 Aug Lean Hogs        C  78.21  83.51  77.90 $ 10,450  14,980  10.0% Meats   
 6 Aug Heating Oil #2   C 178.70 192.90 192.20 $ 35,604  14,868  20.0% Energies
 5 Jul Coffee "C"       S        101.64  99.80 $  3,300  14,981   5.0% Softs   
 9 Aug Live Cattle      C 102.46 106.75 102.22 $ 15,174  14,940  10.0% Meats   
19 Jul Oats             L 276.30        279.00 $  1,995  14,915  20.0% Grains  
 9 Jul Platinum         S         82.06  81.10 $  4,050  14,940  10.0% Prec Met
 3 Aug Gasoline         C 165.60 181.90 181.60 $ 20,448  14,868  20.0% Energies
 7 Jul Soybeans         C 853.80 917.80 902.80 $ 22,190  14,910  20.0% Grains  
 5 Sep Swiss Franc      C 101.28 102.87 103.14 $  9,788  14,938  20.0% Currency
 5 Sep Treasury Bonds   C 154.62 155.90 154.59 $  6,250  14,950   5.0% Finance 
10 Jul Chicago Wheat    C 516.30 547.00 526.00 $ 15,050  14,850  20.0% Grains  

            Adjustment for Open Positions: -($   10,706)

Prior to 6/17:
Other Gains/-Losses This Reporting Period:   $1,093,100  ***
 ***  For Contracts Closed or Rolled Forward  __________
 
Total for all Trades:                        $1,324,380


Stocks Site.
Music of Francis Poulenc

Trading in commodities involves substantial risk and past performance is no guarantee of future profits. Zenith does not sell advice nor does it manage discretionary accounts other than its own. Readers should be aware of the vested interest that all traders/brokers have in encouraging other traders to make the same transactions. No one should follow investment advice blindly. This web site should be used only as a "sounding board" for confirming one's own opinion. Any suggested order placements should be reviewed and reset to fit current market conditions by individual traders.

Recommendations may include trades which have already been made on the same or a previous day, otherwise the issue is placed on a "watch list." Suggested trades are based upon an approximate maximum $15,000 capitalization requirement per trade, depending upon initial contract margin requirements. Zenith's actual trades may be larger. $22 per round turn for futures is deducted from profit figures. Commodity option trade recommendations are not tracked, but performance should parallel that of the underlying commodity's.
Click here to E-Mail Zenith!


Junk Mail Robot Trap