11/23/2019: Orange Juice Appears to Violate Supply/Demand Rules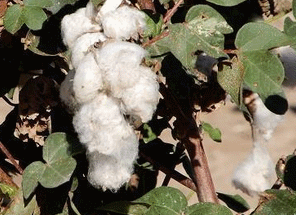 The Orange Juice market in Florida is depressed largely because of a disease imported from China which is killing off the orange groves. However, a supply of oranges in inventory is building up in Florida because many processors to turn oranges into frozen concentrate (basis of futures contract) are closing down. Demand is reduced by high costs, health issues, and competition from imports. It is difficult to understand why diminishing supply or oranges from groves would cause an inventory buildup, but the answer appears to be with processors who can't move the stuff at higher retail prices. This seems to be one instance where futures prices and wholesale costs are moving opposite to retail prices.
Our recent article on Orange Juice is in the Archives Section below.


12-08-2019: Some Commodities We Haven't Currently Reviewed
How do we pick a commodity for review? Here are technical strength or weakness ratings for 12/06//2019 on the other major commodities not being currently being reviewed or traded on this site. One way to choose a commodity for review is to look at the previous activity and compare it to the present one, to see if there were any dramatic changes. Commodities currently under review on our list of about 18 on this site are not shown below. It's just a way of keeping track of what else is going on with other commodities.
---
Current Actvity: Previous Activitiy: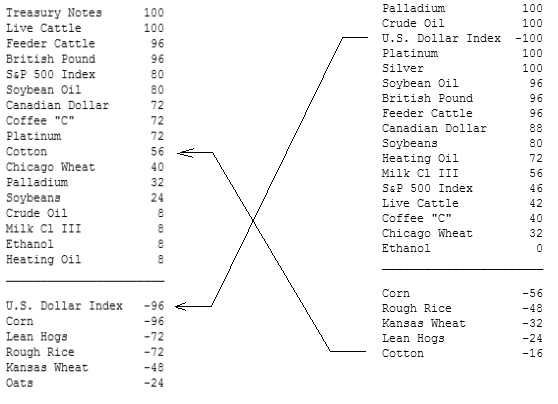 The ratings are good only for date shown, and rapidly change each day, whereas we review the list only periodically. Once a commodity appears on our list of articles and is being currently traded, we consider its long-term direction has been established and trade consistently from that direction wtihout worrying about day-to-day changes. However, that procedure is not the one we use in swing trading stocks.

11-23-2019: January Orange Juice: Supply/Demand Issues
10-30-2019: December Ethanol: Uncertainty Faces Use
10-25-2019: December Silver: Bank Illiquidity Supports Precious Metals
10-21-2019: December British Pound: Chaos in Parliament
10-14-2019: December Cocoa: Multinationals Urged to Susport Sustainability
10-10-2019: November Rough Rice: Relatively Flat Trade
10-01-2019: November Gasoline:: Saudi Production Limited Impact
09-12-2019: December S&P 500 Index: How Is the Little Guy Benefitted?
08-26-2019: October Milk, Class III: Dairy Farms Driven Out of Business
08-20-2019: December Live Cattle: Plant Fire Causes Backlog
08-14-2019: December Chicago Wheat: Too Much Around
08-11-2019: December Soybean Oil: China Allowed to Dominate Market
08-03-2019: December Cotton: New Tariffs Sink Agricultural Economy
07-29-2019: September Copper: Renewable Energy Sources Demand Copper
07-25-2019: October World Sugar: Supplies Plentiful
07-17-2019: September Lumber: Canadian Mill Curtailment
07-10-2019: September Australian Dollar: Depending Upon U.S. Federal Reserve Decisioins
07-03-2019: August Feeder Cattle: Feed Costs Moderate
---
Updated once a week (usually on Saturdays) unless the preceding week had less than five trading days.

The S&P 500 Idx E-Mini contract involved a roll forward from December to March, the Orange Juice contract from November to March and the Silver contract from December to March.
Previously-reported initial prices were adjusted to reflect this.
All Commodities Trades: 09/30/2019 - 12/07/2019

 # Commodity           BS    Buy   Sell   Last    Gain Intended  Rough   Group
                                                 (Loss)    Risk Percent

 4 Jan Ethanol          C 135.60 148.70 137.50 $ 10,360  14,640  11.7% Energies
10 Mar Australian Dollr S         68.51  68.54 $   -600  14,900  11.9% Currency
26 Mar Soybean Oil      C  30.53  31.44  31.50 $ 13,416  14,976  17.9% Grains  
 5 Mar British Pound    C 129.37 131.54 131.79 $  6,631  14,969  11.9% Currency
 7 Mar Cocoa            L  25.39         26.07 $  4,550  14,980  14.0% Softs   
 5 Mar Cotton #2        S         66.05  66.00 $    -25  14,975   6.0% Cotton  
25 Jan Milk Cl.III      S         18.95  18.62 $ 15,750  14,500   5.8% Dairy   
 2 Mar S & P 500 E-Mini C 314.78 307.10 314.80 $ -7,740   7,680   3.1% Stock Id
 4 Jan Feeder Cattle    C 140.18 143.13 141.55 $  5,780  14,980  11.9% Meats   
 3 Mar Hi Grade Copper  C 262.40 274.20 272.50 $  8,760  14,925   5.9% Copper  
 4 Jan Lumber           C 394.70 419.80 406.10 $ 10,924  14,872   5.9% Lumber  
 9 Feb Live Cattle      C 124.25 126.60 124.97 $  8,190  14,976  11.9% Meats   
10 Mar Orange Juice     C 101.55  97.90  98.20 $ -5,775   5,475  14.0% Softs   
 2 Feb Gasoline         C 156.90 169.70 165.10 $ 10,692  14,784  11.7% Energies
18 Jan Rough Rice       C 121.45 122.01 123.10 $  1,476  14,940  17.9% Grains  
14 Mar Sugar #11 World  C  12.71  12.86  13.18 $  1,932  14,739  14.0% Softs   
 2 Mar Silver Mini      L  16.65         16.60 $   -310  14,750   5.9% Prec Met
 9 Mar Chicago Wheat    C 509.60 517.40 524.50 $  3,240  14,940  17.9% Grains  

            Adjustment for Open Positions: -($   19,365)

Prior to 11/25:
Other Gains/-Losses This Reporting Period:   $  480,145  ***
 ***  For Contracts Closed or Rolled Forward  __________
 
Total for all Trades:                        $  548,031


Stocks Site.
Music of Francis Poulenc

Trading in commodities involves substantial risk and past performance is no guarantee of future profits. Zenith does not sell advice nor does it manage discretionary accounts other than its own. Readers should be aware of the vested interest that all traders/brokers have in encouraging other traders to make the same transactions. No one should follow investment advice blindly. This web site should be used only as a "sounding board" for confirming one's own opinion. Any suggested order placements should be reviewed and reset to fit current market conditions by individual traders.

Recommendations may include trades which have already been made on the same or a previous day, otherwise the issue is placed on a "watch list." Suggested trades are based upon an approximate maximum $15,000 capitalization requirement per trade, depending upon initial contract margin requirements. Zenith's actual trades may be larger. $22 per round turn for futures is deducted from profit figures. Commodity option trade recommendations are not tracked, but performance should parallel that of the underlying commodity's.
Click here to E-Mail Zenith!


Junk Mail Robot Trap