To return to Stocks portion of this site click here.

02/13/2020: Swiss Franc Negative Interest Rates Deflate the Currency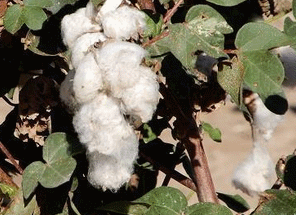 Why put your money into a bank that charges you interest for the "privilege" when you can get interest on your money elsewhere? What you appear to be paying for is security for your money in times when the coronavirus could upset world economies, or the stock markets of the world way over-valued could plummet in a correction. Or perhaps you are simply using some form of "arbigrate" trading. At any rate, the Swiss National Bank aims to cause inflation in the Swiss economy and deflation in the Swiss Franc, with apparently some success. They have the power to intervene in markets with large sums of money. The sentiment of world traders appears to be on the side of "risk on" trading, whereas only "risk off" would benefit the Franc..
Our recent article on the Swiss Franc is in the Archives Section below.

02-08-2020: Some Commodities We Haven't Currently Reviewed
How do we pick a commodity for review? Here are technical strength or weakness ratings for 01/28/2020 on the other major commodities not being currently being reviewed or traded on this site. One way to choose a commodity for review is to look at the previous activity and compare it to the present one, to see if there were any dramatic changes. Commodities currently under review on our list of about 18 on this site are not shown below. It's a way of keeping track of what else is going on with other commodities.
---
Current Actvity: Previous Activitiy: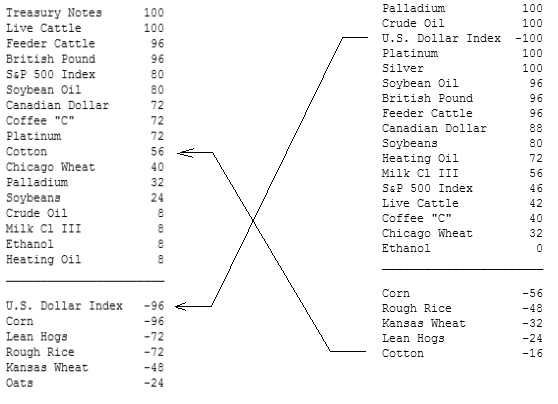 The ratings are good only for date shown, and rapidly change each day, whereas we review the list only periodically. Once a commodity appears on our list of articles and is being currently traded, we consider its long-term direction has been established and trade consistently from that direction wtihout worrying about day-to-day changes. However, that procedure is not the one we use in swing trading stocks.

02-13-2020: March Swiss Franc: Negative Interest Rate Effect
02-01-2020: March NASDAQ 100 Index: Not Virus But Overvaluation Should Be Feared
01-24-2020: March Treasury Notes: Chinese Virus Influences
01-18-2020: March Oats: Reduced Planted Acreage
01-04-2020: March Feeder Cattle: Less Liquidity and Direction
12-19-2019: April Platinum: So. African Power Outages Affect Mine Production
12-10-2019: March Coffee: Global Supply Diminishes
11-23-2019: January Orange Juice: Supply/Demand Issues
10-30-2019: December Ethanol: Uncertainty Faces Use
10-25-2019: December Silver: Bank Illiquidity Supports Precious Metals
10-21-2019: December British Pound: Chaos in Parliament
10-14-2019: December Cocoa: Multinationals Urged to Susport Sustainability
10-10-2019: November Rough Rice: Relatively Flat Trade
10-01-2019: November Gasoline:: Saudi Production Limited Impact
09-12-2019: December S&P 500 Index: How Is the Little Guy Benefitted?
08-26-2019: October Milk, Class III: Dairy Farms Driven Out of Business
08-20-2019: December Live Cattle: Plant Fire Causes Backlog
08-14-2019: December Chicago Wheat: Too Much Around
---
Updated once a week (usually on Saturdays) unless the preceding week had less than five trading days.

All Commodities Trades: 02/03/2020 - 02/15/2020

 # Commodity           BS    Buy   Sell   Last    Gain Intended  Rough   Group
                                                 (Loss)    Risk Percent

 4 Mar Ethanol          S        134.40 134.30 $     -4  14,848  11.0% Energies
 5 Mar British Pound    C 129.46 130.28 130.64 $  2,413  14,969  11.1% Currency
 7 Mar Cocoa            C  28.71  29.86  29.88 $  7,840  14,980  16.7% Softs   
10 Mar Milk Cl.III      C  17.18  17.41  17.12 $  4,300  14,800   5.5% Dairy   
 2 Mar S & P 500 E-Mini C 331.80 337.10 337.80 $  5,240  14,900  11.1% Stock Id
 4 Mar Feeder Cattle    C 134.72 137.52 136.32 $  5,480  14,980  11.1% Meats   
 4 Mar Coffee "C"       C  98.09 104.23 104.45 $  9,090  14,985  16.7% Softs   
 9 Apr Live Cattle      C 118.82 119.82 118.53 $  3,330  14,976  11.1% Meats   
 1 Mar NASDAQ 100 E-Min C 936.90 943.30 961.30 $     98  14,998  11.1% Stock Id
10 Mar Oats             L 295.40        295.80 $   -100  14,950  16.7% Grains  
10 Mar Orange Juice     C  91.97  99.40  99.15 $ 10,845  14,985  16.7% Softs   
 6 Apr Platinum         L  96.01         97.47 $  4,200  14,970  11.1% Prec Met
 2 Apr Gasoline         C 164.80 168.40 172.30 $  2,964  14,868  11.0% Energies
10 Mar Rough Rice       C 131.32 138.05 133.05 $ 13,160  14,980  16.7% Grains  
 4 Mar Swiss Franc      S        102.69 102.32 $  1,730  14,950  11.1% Currency
 2 Mar Silver Mini      L  17.50         17.62 $    540  14,950  11.1% Prec Met
10 Mar Treasury Notes   C 130.74 131.86 130.77 $ 10,900  14,900   5.5% Finance 
 9 Mar Chicago Wheat    C 540.40 563.20 544.20 $  9,990  14,940  16.7% Grains  

            Adjustment for Open Positions: -($    6,366)

Other Gains/-Losses This Reporting Period:   $  222,843  ***
 ***  For Contracts Closed or Rolled Forward  __________
 
Total for all Trades:                        $  308,493


Stocks Site.
Music of Francis Poulenc

Trading in commodities involves substantial risk and past performance is no guarantee of future profits. Zenith does not sell advice nor does it manage discretionary accounts other than its own. Readers should be aware of the vested interest that all traders/brokers have in encouraging other traders to make the same transactions. No one should follow investment advice blindly. This web site should be used only as a "sounding board" for confirming one's own opinion. Any suggested order placements should be reviewed and reset to fit current market conditions by individual traders.

Recommendations may include trades which have already been made on the same or a previous day, otherwise the issue is placed on a "watch list." Suggested trades are based upon an approximate maximum $15,000 capitalization requirement per trade, depending upon initial contract margin requirements. Zenith's actual trades may be larger. $22 per round turn for futures is deducted from profit figures. Commodity option trade recommendations are not tracked, but performance should parallel that of the underlying commodity's.
Click here to E-Mail Zenith!


Junk Mail Robot Trap