07-17-2019: Canadina Mill Curtailment May Signal a Bottom in Lumber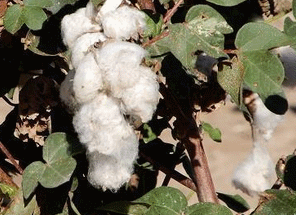 That's the story, anyway. But we aren't buying it. Mill curtailment will put a crimp on supplies of lumber coming in from the Pacific Northwest, but the conditions which led to the curtailment, much lower lumber price today than ones from a year ago, remain. Demand is a factor and the caveat of possibly lower interest rates, as the U.S. Fed seems out of step with the rest of the world, and housing demand could push prices higher. But we think more likely recent strength in lumber prices are a correction in an overall downward trend that shows little sign of ending soon.
In an election year, the tariff disputes with Canada and elsewhere will moderate, and the Fed seems unlikely to us to reverse an early cyclic tightening knowing full well what that will do to inflation. Rumors of rate cuts and soaring housing demand may be overlooking market saturation, over-building in some areas, and those easy credit terms that got us into trouble the last time. Lumber's year-ago strength was based upon Canadian rail transporation problems coupled with wild fires and both of those situations have been largely resolved, at least for now.
Our recent article on Lumber is in the Archives Section below.


07-13-2019: Some Commodities We Haven't Currently Reviewed
How do we pick a commodity for review? Here are technical strength or weakness ratings for 07/12//2019 on the other major commodities not being currently being reviewed or traded on this site. One way to choose a commodity for review is to look at the previous activity and compare it to the present one, to see if there were any dramatic changes. Commodities currently under review on our list of about 18 on this site are not shown below. It's just a way of keeping track of what else is going on with other commodities.
---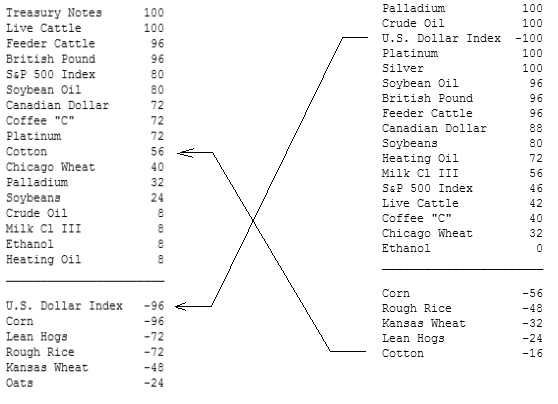 The ratings are good only for date shown, and rapidly change each day, whereas we review the list only periodically. Once a commodity appears on our list of articles and is being currently traded, we consider its long-term direction has been established and trade consistently from that direction wtihout worrying about day-to-day changes. However, that procedure is not the one we use in swing trading stocks.

07-17-2019: September Lumber: Canadian Mill Curtailment
07-10-2019: September Australian Dollar: Depending Upon U.S. Federal Reserve Decisioins
07-03-2019: August Feeder Cattle: Feed Costs Moderate
06-23-2019: September U.S. Dollar Index: Interest Rate Cut Rumors
06-17-2019: August Gold: Mideast Crises, Interest Rates and National Debt Force Gold Up
06-09-2019: September Canadian Dollar: Trade Wars and Interest Rates
06-03-2019: August Crude Oil: Deflationary Pressures
05-15-2019: August Lean Hogs: African Swine Fever Vs. Trump Trade Mess
05-05-2019: June Ethanol: E15 Mandates Help
04-30-2019: July Soybeans: Flooding Causes Planting Intentions Switch
04-24-2019: June Swiss Franc: Negative Interest Rates
04-19-2019: June Gasoline: California Read Misleading
04-16-2019: July Platinum: Catalytic Converters Use Determines Demand
04-07-2019: May Oats: Cancer Concerns Remain
04-01-2019: June Euro Currency: Weakened by both Brexit & Italy
03-24-2019: June Treasury Bonds: Inverted Yield Curve
03-16-2019: April Milk Class III: Below Cost of Production
03-12-2019: May Corn: Intense Foreign Competition
---
Updated once a week (usually on Saturdays) unless the preceding week had less than five trading days.

All Commodities Trades: 07/01/2019 - 07/20/2019

 # Commodity           BS    Buy   Sell   Last    Gain Intended  Rough   Group
                                                 (Loss)    Risk Percent

 9 Aug Ethanol          L 144.60        147.20 $  6,516  14,616  16.6% Energies
10 Sep Australian Dollr S         70.66  70.56 $    700  14,900  27.8% Currency
21 Dec Corn             C 429.80 458.90 435.80 $ 29,925  14,805  16.6% Grains  
13 Sep Canadian Dollar  C  76.59  76.66  76.64 $    520  14,950  27.8% Currency
 4 Sep Crude Oil        C  55.07  60.78  55.76 $ 22,720  14,960  16.6% Energies
41 Aug Milk Cl.III      C  17.59  17.75  17.66 $ 11,890  14,760   5.5% Dairy   
 8 Sep U.S.Dollar Index C  96.71  96.80  96.82 $    480  14,880  27.8% Currency
 5 Sep Euro Currency    S        112.99 112.70 $  1,663  14,938  27.8% Currency
 4 Aug Gold             C 140.70 144.85 142.67 $ 16,480  14,960  11.1% Prec Met
 4 Aug Feeder Cattle    L 139.46        139.98 $    920  14,980  11.2% Meats   
 5 Aug Lean Hogs        S         84.21  83.88 $    510  14,980  11.2% Meats   
 4 Sep Lumber           S        352.20 353.70 $   -780  14,960   5.6% Lumber  
19 Dec Oats             C 274.10 283.80 272.20 $  8,645  14,820  16.6% Grains  
 9 Oct Platinum         S         86.20  85.21 $  4,185  14,940  11.1% Prec Met
 3 Sep Gasoline         L 178.20        179.50 $  1,548  14,994  16.6% Energies
 7 Nov Soybeans         C 896.60 932.70 919.20 $ 12,425  14,910  16.6% Grains  
 5 Sep Swiss Franc      C 101.90 102.08 102.30 $    975  14,938  27.8% Currency
 5 Sep Treasury Bonds   C 153.49 154.66 154.75 $  5,700  14,950   5.6% Finance 

            Adjustment for Open Positions: -($   15,262)

Other Gains/-Losses This Reporting Period:   $  120,454  ***
 ***  For Contracts Closed or Rolled Forward  __________
 
Total for all Trades:                        $  230,214


Stocks Site.
Music of Francis Poulenc

Trading in commodities involves substantial risk and past performance is no guarantee of future profits. Zenith does not sell advice nor does it manage discretionary accounts other than its own. Readers should be aware of the vested interest that all traders/brokers have in encouraging other traders to make the same transactions. No one should follow investment advice blindly. This web site should be used only as a "sounding board" for confirming one's own opinion. Any suggested order placements should be reviewed and reset to fit current market conditions by individual traders.

Recommendations may include trades which have already been made on the same or a previous day, otherwise the issue is placed on a "watch list." Suggested trades are based upon an approximate maximum $15,000 capitalization requirement per trade, depending upon initial contract margin requirements. Zenith's actual trades may be larger. $22 per round turn for futures is deducted from profit figures. Commodity option trade recommendations are not tracked, but performance should parallel that of the underlying commodity's.
Click here to E-Mail Zenith!


Junk Mail Robot Trap