To return to Stocks portion of this site click here.

06/29/2020: Mexican Interest Rates Are Cut Drastically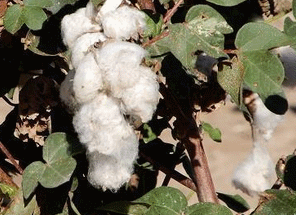 Mexico's hesitancy to cut interest rates finally has ended with some drastic cuts to stimulate its fragile economy. Any upward momentum seems lost as the Brazilian Real attracts more investors away from the Peso. Interest rates are the main factor in the exchange rate but there is a "perfect storm" of other factors affecting the Mexican economy.
Our recent article on the Mexican Peso is in the Archives Section below.


06-25-2020: Some Commodities We Haven't Currently Reviewed
How do we pick a commodity for review? Here are technical strength or weakness ratings for 06/24/2020 on the other major commodities not being currently being reviewed or traded on this site. One way to choose a commodity for review is to look at the previous activity and compare it to the present one, to see if there were any dramatic changes. Commodities currently under review on our list of about 18 on this site are not shown below. It's a way of keeping track of what else is going on with other commodities.
---
Current Activity: Previous Activity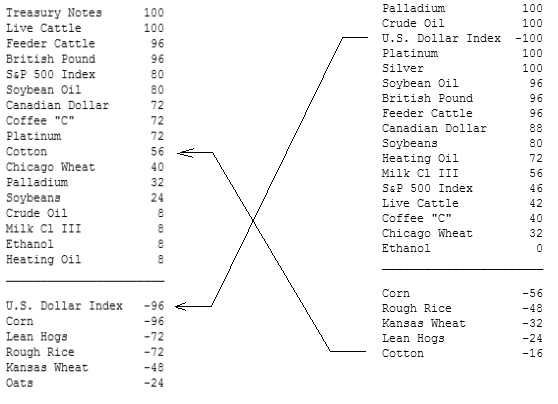 The ratings are good only for date shown, and rapidly change each day, whereas we review the list only periodically. Once a commodity appears on our list of articles and is being currently traded, we consider its long-term direction has been established and trade consistently from that direction wtihout worrying about day-to-day changes. However, that procedure is not the one we use in swing trading stocks.

06-29-2020: September Mexican Peso: Interest Rates Slashed
06-20-2020: July Cocoa: W. African Producers Unite to Control Pprices
06-13-2020: September '21 Eurodollars: Not So Dull Anymore
06-04-2020: September Treasury Bonds: Low Interest Rates May Fail to Attract Capital
05-25-2020: August Gasoline: Pessimism About Price Recovery
05-03-2020: June Australian Dollar: Not Just About Interest Rates Anymore
04-24-2020: June Gold: Hyperinflation Fears
04-13-2020: July Natural Gas: Weather, Virus, and the Economy
04-07-2020: July Soybean Meal: Logistics Problems Getting to Market
03-29-2020: June Euro Currency: U.S. Lack of Fiscal Restraint Weakens Dollar
03-13-2020: June Japanese Yen: Flight to Safety
03-04-2020: May Lumber: Struggle to Recover from Supply Disruptions
02-23-2020: March Copper: Virus and Over-Valued Equities Threaten Demand
02-13-2020: March Swiss Franc: Negative Interest Rate Effect
02-01-2020: March NASDAQ 100 Index: Not Virus But Overvaluation Should Be Feared
01-24-2020: March Treasury Notes: Chinese Virus Influences
01-18-2020: March Oats: Reduced Planted Acreage
01-04-2020: March Feeder Cattle: Less Liquidity and Direction
12-19-2019: April Platinum: So. African Power Outages Affect Mine Production
12-10-2019: March Coffee: Global Supply Diminishes
---
Updated once a week (usually on Saturdays) unless the preceding week had less than five trading days.

This completes Zenith's Second Quarter. Next report we will zero out cumulative totals and begin cumulating the Third Quarter.
All Commodities Trades: 03/30/2020 - 06/27/2020

 # Commodity           BS    Buy   Sell   Last    Gain Intended  Rough   Group
                                                 (Loss)    Risk Percent

 7 Sep Australian Dollr C  68.39  69.48  68.66 $  7,420  14,980  22.2% Currency
 7 Sep Cocoa            S         23.87  22.77 $  7,490  14,910  11.1% Softs   
 6 Sep Euro Currency    C 112.35 113.26 112.46 $  6,645  14,925  22.2% Currency
 1 Dec Gold             S        180.34 179.85 $    460  14,980  11.1% Prec Met
 4 Aug Feeder Cattle    C 131.15 133.31 132.60 $  4,200  14,980   5.6% Meats   
 5 Sep Hi Grade Copper  S        270.30 267.90 $  2,850  14,875   5.5% Copper  
 5 Sep Japanese Yen     L  93.53         93.39 $ -1,025  14,938  22.2% Currency
 4 Jul Coffee "C"       L  93.82         95.65 $  2,625  14,985  11.1% Softs   
 4 Jul Lumber           C 418.00 423.00 430.50 $  2,080  14,916   5.5% Lumber  
10 Aug Natural Gas Mini L  15.23         15.44 $    225  14,975   5.6% Nat Gas 
 1 Sep NASDAQ 100 E-Min C  98.64 100.71  98.66 $    384  14,996   5.6% Stock Id
10 Jul Oats             C 301.70 327.60 329.00 $ 12,650  14,900  11.1% Grains  
 6 Jul Platinum         L  79.37         80.99 $  4,680  14,970  11.1% Prec Met
 1 Aug Gasoline         L 114.10        115.70 $    642  14,994   5.6% Energies
 4 Sep Swiss Franc      S        106.00 105.78 $    980  14,950  22.2% Currency
10 Jul Soybean Meal     C 282.90 289.60 282.10 $  6,400  14,900  11.1% Grains  
10 Sep Treasury Notes   L 138.71        139.22 $  4,800  14,900  11.1% Finance 
 1 Sep Treasury Bonds   S        178.53 179.09 $   -590  14,990  11.1% Finance 

            Adjustment for Open Positions: -($   23,137)

Prior to 6/22:
Other Gains/-Losses This Reporting Period:   $  885,240  ***
 ***  For Contracts Closed or Rolled Forward  __________
 
Total for all Trades:                        $  925,019


Stocks Site.
Music of Francis Poulenc

Trading in commodities involves substantial risk and past performance is no guarantee of future profits. Zenith does not sell advice nor does it manage discretionary accounts other than its own. Readers should be aware of the vested interest that all traders/brokers have in encouraging other traders to make the same transactions. No one should follow investment advice blindly. This web site should be used only as a "sounding board" for confirming one's own opinion. Any suggested order placements should be reviewed and reset to fit current market conditions by individual traders.

Recommendations may include trades which have already been made on the same or a previous day, otherwise the issue is placed on a "watch list." Suggested trades are based upon an approximate maximum $15,000 capitalization requirement per trade, depending upon initial contract margin requirements. Zenith's actual trades may be larger. $22 per round turn for futures is deducted from profit figures. Commodity option trade recommendations are not tracked, but performance should parallel that of the underlying commodity's.
Click here to E-Mail Zenith!


Junk Mail Robot Trap