News Analysis
Natural gas contracts appear extremely oversold. Classic fundamentals for both supply and demand do not provide incentive for would-be buyers to step in against the dramatic weakness recently posted. U.S. temperatures (degree days) are unconducive to increased natural gas usage and there are no mounting tropical storm threats yet. U.S. natural gas rigs declined by 3 last week in a potential developing trend. That should provide minimal support to both crude oil and natural gas. There is a large net short position in natural gas speculative positions. It increased by 50% in the past week alone. A planned 2-3 shutdown of a Norwegian facility will not offsset average U.S. cooling demand limitations.
Injections into underground storage inventories have been uncharacteristically slow heading into winter. Inventories are considered bullish. However, inventories are up 20 billion cu. ft. in the latest EIA Report. LNG has allowed the U.S. to become a leading exporter of natural gas to the world. The current level of historical volatility in the commodity is low when compared to the past where huge price variance was the norm, not the exception. Open interest in the natural gas sector is second only to the crude oil market when considering energy futures. The season of peak demand is about fifteen weeks away. Fracking and shale gas extraction continues unabated, even though Oklahoma is shaking. Inventories stand at 3.01 trillion cu. ft., 8.5% below last year's level but 3% above the five-year average for this time of year.
Prices for natural gas in other parts of the world are significantly higher than domestically, encouraging further development of LNG shipments. Electric utilities cointinue to switch over steam electric generating plants from coal to natural gas.
On August 2nd, a 4.2 Magnitude earthquake hit central Oklahoma. There were cracked floors and household items knocked off shelves. The event was one of seven in a 28 hour period. Earthquake activity in Oklahoma used to be rare, but the people running that state seem totally unprepared to deal with the problem caused by fracking in their greed toi exploit natural resources to the fullest.
A few analysts see $4 to $5 natural gas prices as possible during the coming winter season. Natural gas is now the mian source of electricity. Shale production has dropped the price from $.8.86 per MMBtu in 2008 to just $2.52 in 2016. Blue weather maps for the next two weeks signal a bearish market. Heatwaves on the West Coast haven't been prolonged enough to increase prices due to air conditioning demand. No single sector accounts for more than 35% of all gas usage utililized in electricity, industry, heating, and transportation. One example of optimism is MBF Clearing Corporation's Mark Fisher, a "renowned energy market trader," who sees the price breakout after a streak of warm winters. He sees temperatures returning to more normal cooler ranges.
The Federal Energy Regulatory Commission (FERC) has a huge backlog of unapproved pipeline projects. 6 Bcf/d of new takeaway capacity projects are scheduled to come on line in the critical Appalachian Basin between now and April, 2018. Form 2016-2018 the U.S. piped gas export to Mexico will double to nearly 15 Bcf/d. However, Mexico's de-regulation is about producing more, not importing more from the U.S., with a $640 billioni investment in its own infrastructure.
By 2020, more than 150 new natural gas power plants are scheduled to come online in the U.S. concentrated around shale basins. That would amount to 90,000 MW of new gas electric generation.
Pennsylvania is attempting to raise revenues by charging a fee on gas production, opposed by the Federal Government. Anything that disrupts Pennsylvania gas impacts all natural gas users around the world. The Marcellus is probably the world's largest gas field and now produces nearly 20 Bcf/d of gas, more than double the second-place Permian Basin in the U.S.
Mexico has eliminated its maximum price for natural gas, allowing PEMEX to realize the true market value of natural gas. Mexico is converting from state-owned to private production gradually, auctioning off state-owned fields. Thus a liberalized gas market in Mexico is now emerging.
In the Permian Basin, Parsley Energy Inc., one of its major producers, has a current position of 231,000 net acres, of which 179,000 are in the Permian and 52,000 in the sub-basin. This company recently raised production guidance there.
There is some question as to whether or not heavily indebted natural gas producer Chesapeake Energy Corp. will survive.
Certain university studies suggest that a rush to extract as much natural gas from shale leaves major formations with a possible limitation on the "unlimited" potential they were once thought to have. Increased drilling to support optomistic production levels may not turn out to be profitable, resulting in a giant fiasco regarding the potential for fracking operations. Poland is said to have the largest shale reserves in Europe, but recent calculations suggest ther region there holds less than 1/10th of an Advanced Resources International (consultancy in Washington) former estimate. There is a huge amount of uncertainty regarding shale gas potential in the U.S., with estimates ranging from a 65 year supply to much less than that.
All this seems to suggest natural gas prices are weak on high production and low consumption. The only near-term bullishness appears to be in tehnical considerations for a possible short-covering rally.
Point & Figure Chart

 45.0I                                                                  T  8/ 4
     I NYME- Sep-17 Natural Gas Mini 2.5KmmBTU .c/ Cm.=0.01  Lim.= 0.1
     I
     I
     I
 42.5I_________________________________________________________________________
     I                                  X
     I                          X       XO
     I      X                   XO      XO
     I      XO                  XO      XO
 40.0I______XO__________________XO______XO_____________________________________
     I      XO                  XO  X X XO
     I  X X XO                  XO  XOXOXO
     I  XOXOXO                X XO  XOXOXO
     I  XOXOXO          X     XOXO  XOXOXO
 37.5I__XOXO_OX_________XO____XOXO__XO_OXOX_X__________________________________
     I  XOX  OXO        XOX X XOXO  X  OXOXOXO
     I  XO   OXO        XOXOXOXOXO  X  OXOXOXO
     I  X    OXO        XOXOXOXO O  X  OXOXOXO
     I  X    OXO        XOXOXOX  O  X  OXOXOXO
 35.0I__X____OXOX_______XOXOXOX__O__X__O_OXO_OX_X______________________________
     I  X    OXOXO      XOXOXOX  OX X    O   OXOXO
     I  X    O OXO      XOXOXO   OX X        OXOXO
     I  X      OXO      XO OX    OX X        OXOXO
     I  X      OXO      X  O     O  X        OXO O
 32.5IX_X______O_O______X__________OX________OX__O_____________________________
     I OX        O      X          OX        OX  O
     I OX        O    X X          OX        OX  O
     I OX        O    XOX          OX        OX  O
     I OX        O    XOX          OX        OX  OX X
 30.0I_O_________O____XOX__________OX________OX__OXOXO_________________________
     I           OX X XOX          O         OX  OXOXO
     I           OXOXOXOX                    O   O OXO
     I           OXOXOXOX                          O O
     I           OXOXO O                             O
 27.5I___________OXO___________________________________________________________
     I           OX
     I           OX
     I           O
     I
 25.0I----I----I----I----I----I----I----I----I----I----I----I----I----I----I---
      11111                     1111111111
      222221111222333444577889990001122222111134556777
      112330012001122012202020020120100123112201112012
      471014711180029698352231985981489210185762178584

The above chart is giving a conventional sell signal.
---
Cyclical and Seasonal Factors
We are headed toward a cyclical high and a seasonal down period.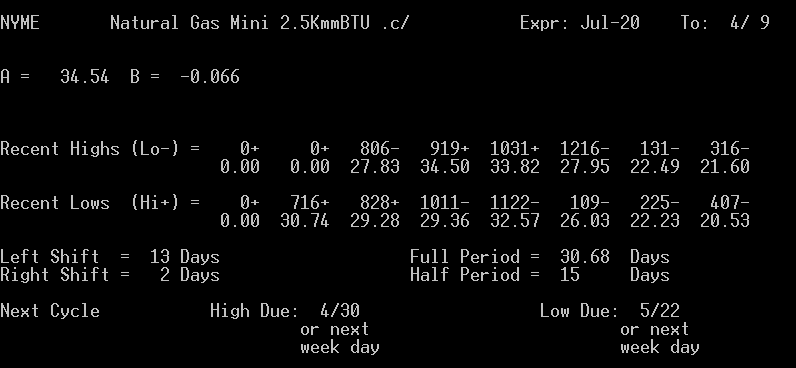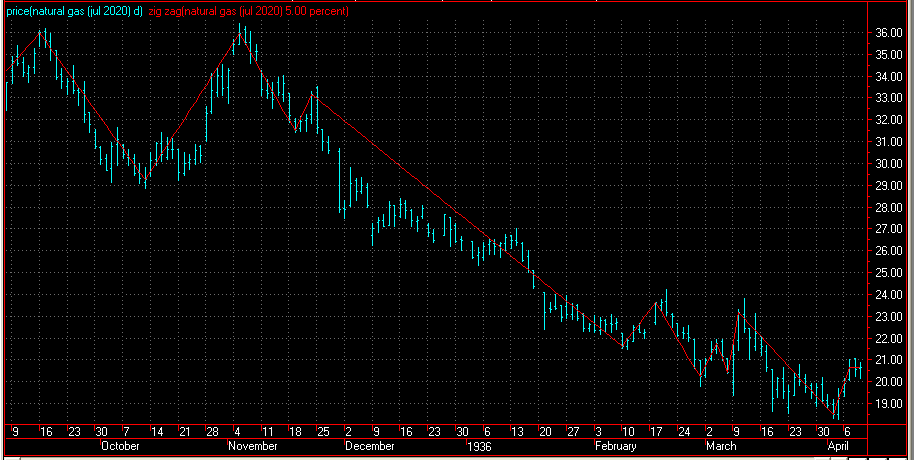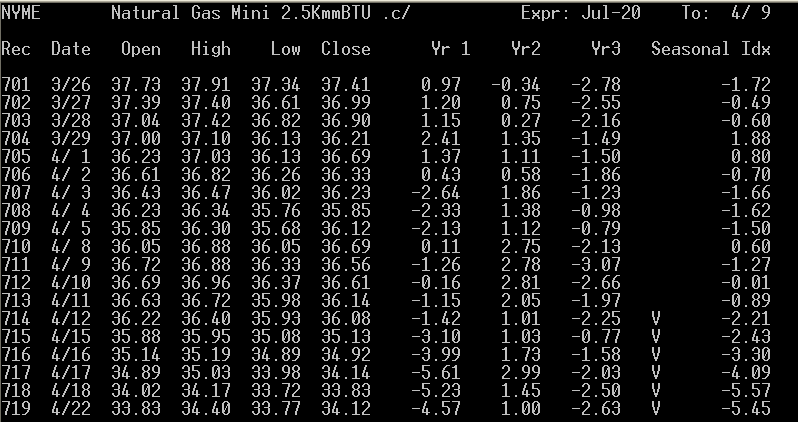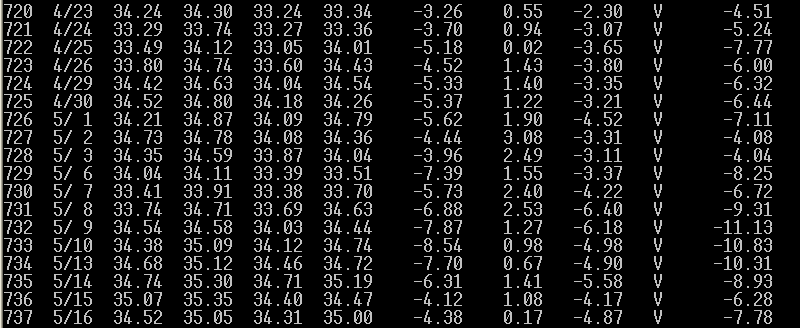 Internal Program
Our best-performing internal program is "%R". It is giving a buy signal.
Results of "%R" for Natural Gas (blue lines = successful trades, red, unsuccessful): (Always in the market.)