News Analysis
Spillover buying into the Franc from the Euro is occurring. Economic reports from the U.S. remain weak. Markets won't let go of a concern that Obamacare without a replacement will dramaticallyi increase the headwinds for the U.S. economy. The Republican healthcare debacle is punishing the U.S. Dollar and there is now a divergence between the pace of the Euro Zone economy versus the U.S. economy. Inflation concerns in the Euro Zone surfaced during the past week. Unemployment rates could fall there more than expected. Thus a more hawkish tone is coming out the European Central Bank, and suggesting a tightening cycle increase. The beginning of a longer-term uptrend pattern in the Swiss Franc is anticipated, with threats of an eventual interest rate tightening move in both the EuroZone and by the Swiss National Bank.
ECB President Mario Draghi said that financing conditions remain broadly supportive and that the Euro's appreciation had "received some attention." Howver, he did not cite that strength as a problem nor did he directly talk the currency down. Ostacles to U.S. President Trump's policy agenda weighed heavily upon the U.S. Dollar in exchange rate against all currencies.
The European Central Bank is expected to taper its bond-buying stimulus later this year. The Eruo and related Swiss Franc currencies have seen a second straight weeklly rise against the U.S. Dollar. The ECB will "stay the course" toward tightening monetary policy most believe. Possible Russian meddling with the U.S. election and Trump Administration collusion with Russia are viewed as obstacles to that administration's pro-growth agenda and are negative for the Dollar. Latest political news says the Russian investigation in the U..S. is expanding to Trump's business affairs. This is on top of Senate ineffectiveness.
The Swiss National Bank has been engaging in a policy that can best be described as "containment", and the Swiss Franc is losing its appeal as a safe haven currency. The Europ/Swiss Franc spread is becoming more risk on than risk off. EuroZone monetary policy is more likely to show tightening before Switzerland's.
The Swiss Franc has soared ever since the SNB has abandoned its policy of an exchange rate cap against the Euro.
There is an upcoming U.S. Federal Reserve meeting on July 26th at 2 P.M. EDT. While there is almost a 100% probability rates will remain unchanged at that time, there is still experctations the U.S. Fed will raise rates one more time before the end of the year, likely in October. U.S. consumer confidence measurements by the Conference Board remain paradoxical as disappointing sales have not decreased confidence levels as much as expected. Any rate hikes in Europe will have a magnified effect in the face of stable oil prices and U.S. Dollar weakness.
The head of the Swiss National Bank, Thomas Jordan admitted that the central bank has no quick fix solution to the problems a strong currency is causing the country. He believes the Swiss Franc is "significantly overvalued." While the SNB gave up defending its EUR/CHF floor at 1.20 last January, it was not long before it began to regularly intervene in foreign exchange markets to weaken its own currency in order to support Swiss exports. In February, 2017, the Swiss watchmakers' federation reported that exports of Swiss watches was down a further 10% on a year earlier.
As early as mid-2016 several news agencies reported that the SNB was expected to keep rates "on hold" until at least mid-2017. The Swiss Franc exchange rate gainst both the U.S. Dollar and the Euro has remained defiantly stout regardless of headwinds. Consumer spending in Switzerland is expected to extend into next year as improvements in export performance and investment are evident. There is pressure to head more toward parity between the Swiss Franc and the Euro. The SNB policy of keeping the Swiss Franc weak is still very much in play.
The election of Emmanuel Macron in France evaporated a lot of electoral risk in currency exchange there and supported the Euro. Initially, this caused the Swiss Franc to step lower against the Euro. The main feature in the Swiss Franc commodities future seems to be U.S. government ineffectiveness punishing the Doillar against all currencies.
---
Point & Figure Chart

133.0I                                                                  T  7/21
     I IMM - Sep-17 Swiss Franc, 125000 fr, c/fr   Cm.=0.03  Lim.= 0.3
     I
     I
     I
128.0I____X____________________________________________________________________
     I    X
     I    X
     I    X
     I    X
123.0I____XOX__________________________________________________________________
     I    XOXO
     I    XOXO
     I  X XO O
     IX XOX  O
118.0IXOXOX__O_________________________________________________________________
     IXOXOX  O
     IXO OX  O
     IX  OX  O
     I   OX  OX
113.0I___OX__OXOX______________________________________________________________
     I   OX  OXOXO
     I   OX  OXOXOX
     I   OX  OXO OXO
     I   OX  OX  OXO
108.0I___OX__OX__OXO____X______________________________________________________
     I   OX  OX  OXO    XO
     I   OX  OX  O O  X XOX
     I   OX  OX    O  XOXOXOX
     I   OX  O     OX XOXOXOX
103.0I___O_________OXOXO_O_OX__________________________________________________
     I             OXOX    OX
     I             O O     OX
     I                     OX
     I                     O
 98.0I----I----I----I----I----I----I----I----I----I----I----I----I----I----I---
                    1      1
      91261111356788212235803
      20201122121022020231122
      08855613829217398907807

The above chart is giving a conventional sell signal.
---
Cyclical and Seasonal Factors
We are headed toward a cyclical high and a seasonal down period.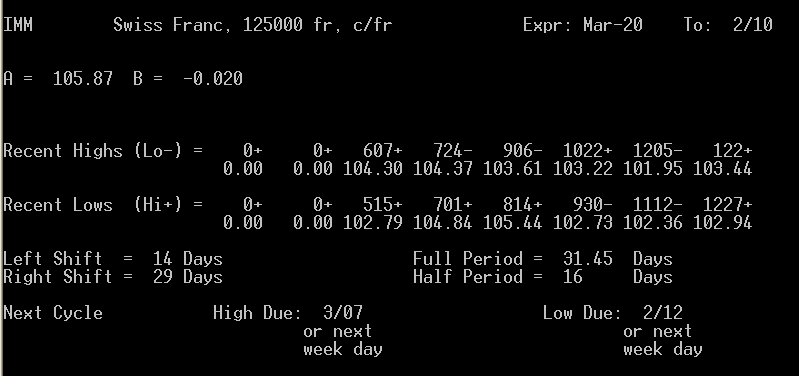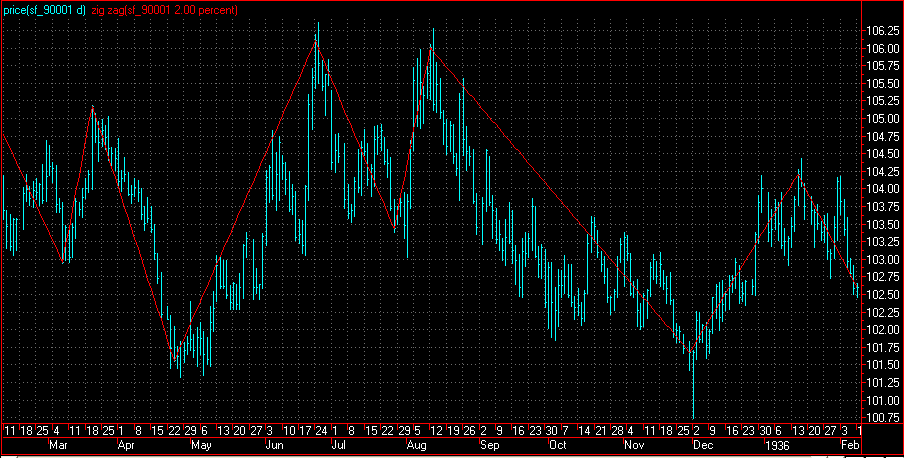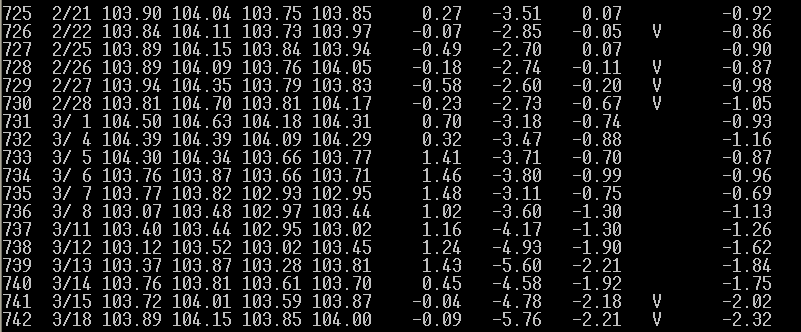 Internal Program
Our best-performing internal program is "LSS3Day" It is giving a buy signal..
Results of "LSS3Day" for Swiss Franc (blue lines = successful trades, red, unsuccessful): (Always in the market.)